What is a Travel Trailer?
There can be a decent amount of confusion surrounding what exactly a travel trailer is. Is it a motorhome? Is it what people load ATVs and other motorized toys onto when they head to the dunes?
Simply put, a travel trailer is a type of camper that has to be towed by another vehicle in order to move around, and provides a protected space to sleep and live in while camping.
Is a travel trailer an RV? Yes, travel trailers are a type of recreational vehicle. Is a travel trailer a motorhome? No, motorhomes are a different type of camper and come with a unique set of advantages and drawbacks. Just the other day I wrote a whole article discussing the differences between travel trailers and motorhomes. Give it a read if you'd like to know more.
Technically, trailers that are used to transport motorized toys are considered travel trailers, but for the purpose of this article, I'm going to use the term "travel trailer" exclusively to refer to towable campers.
Pre-Purchase Considerations
Before you purchase your first travel trailer, or really any large, expensive toy, it is important to consider your lifestyle and how this new piece of recreational equipment may compliment that lifestyle.
Give the following considerations some thought in order to ensure you purchase a travel trailer that will fit all of your needs.
Size
Trailers come in all shapes and sizes. Whether you need a hulking beast of a trailer to sleep a large family of kids and pets, or you just need a little spot to lay your head during solo adventures, with enough searching you're bound to find the right trailer for you.
Here's a brief rundown of the most common types of travel trailers on the market:
Fifth Wheel: Typically featuring 2-4 sleeping areas, living rooms, nearly full kitchens, and bathrooms with showers, fifth wheels are the biggest, most luxurious type of travel trailer out there. It requires a lot of horsepower to drag that much comfort into the outdoors though, so make sure you have a big hefty truck that's up to the task. The name "fifth wheel" refers to the unique hitch they require, which has to be installed in the bed of the towing truck.
Travel Trailer: Although this term is used quite broadly, when it comes to types of trailers, "travel trailer" refers to the largest towable camper you can buy that doesn't require a fifth wheel hitch. These trailers are spacious, sturdy, and are popular amongst RVers with medium budgets who want to spend a season living in a camper full-time.
Lightweight: Great for newbie trailer owners, a lightweight trailer is about as small as you can go while still being able to stand fully upright in your camper. It is possible to pick up a new or used lightweight trailer on a small budget and they don't require a massive V8 truck to haul around. I have ski-bum friends who pick up used lightweights for under $2000, live in them through the winter season, and then sell them in the spring for almost as much as the original purchase price. Not bad, eh?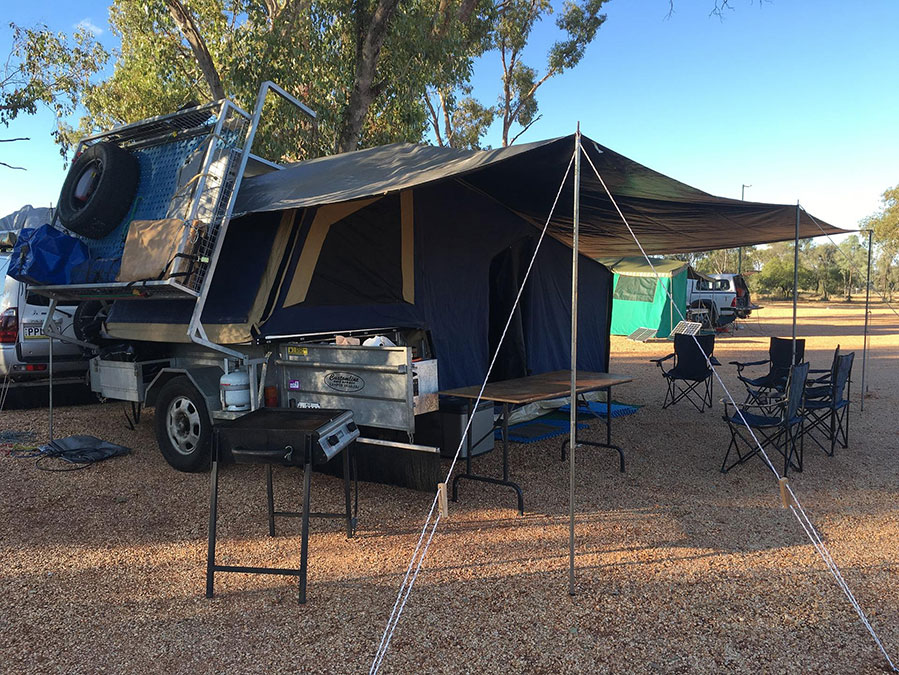 Expandable/Pop-Up: These trailers share some similarities with Transformers. Inconspicuous while being towed, these campers travel in a small, condensed box. Once parked, they pop open, up, and out, rapidly transforming into a significantly larger camper with multiple beds, kitchenettes, and awnings. Some expandable trailers open straight upward and have four canvas walls, others open into a triangular shape and have hard, A-frame shaped roofs.
Teardrop: Perfect for solo adventurers and couples who only want a protected bed to sleep in and some basic cooking amenities, a teardrop trailer offers all that and nothing more. These budget friendly trailers can be picked up relatively cheap, insured cheaply, and won't kill your gas mileage during transit. It is not uncommon to see enthusiastic RV adventurers buying a lightweight trailer and constructing their own, custom teardrops.
Towing Vehicle
All towable trailers will require a towing vehicle to move them around. The type of vehicle required will be 100% dependent on the size and weight of trailer it needs to tow. Fifth wheel trailers and travel trailers will need a large, powerful pickup truck to do the job.
Lightweights can be towed by a medium sized pickup truck or a powerful SUV. Pop-up trailers and teardrops can be towed by SUVs and hatchbacks like a Subaru Outback.
Buying your ideal towable RV might require upgrading your vehicle in order to ensure you can easily and safely tow it around. This can be a major deterrent for folks who are on the fence about buying a travel trailer over a motorhome. To some, it seems illogical to buy a camper that might require an additional vehicle when you could instead buy a motorhome that has its own engine.
While I understand and respect this point of view, in my opinion, the burden of finding the right towing vehicle is canceled out by the convenience of having a vehicle to travel in once camp is set up. To each, their own I suppose.
Price
Remember those ski-bum friends I mentioned? The ones who buy trailers to stay in during the winter? Well there is a very simple reason that they all buy trailer campers instead of motorhomes: price.
Motorhomes, on average, cost quite a bit more than travel trailers. This is mainly due to the cost of parts required to manufacture a motorhome. Engines, and all the moving parts necessary to make a motorhome drivable, cost a great deal more than the parts necessary for a towable trailer.
It's no secret that ski-bums are usually pretty broke. They trade a life of financial security for a life with time and location freedom. Lucky for them, those looking to purchase an RV for the winter are able to save money by buying a trailer that can be towed by the car they presumably already own.
Not sure how much you should spend on a trailer? On average, you can look to spend anywhere from $15,000-$45,000 on a brand new, shiny travel trailer. Or you can go the less expensive route and search the used RV market for a rig that will cost you somewhere in the $2,000-$15,000 range.
Maintenance and Repairs
When looking to purchase an RV, keep this in mind: bigger, nicer trailers will cost more to maintain in the long run.
A little teardrop trailer has very few moving parts to worry about. There are less complex electrical and plumbing systems to go awry, and when they do, the repairs are typically inexpensive and easy to do yourself.
A large travel trailer or a fifth wheel can have very expensive systems that will need pricey repairs when they break down. These repairs should be done by an RV technician in order to guarantee quality, and RV technician labor is expensive.
Think about your maintenance budget before you buy so you don't end up with a money pit that you can't afford to fill.
Inspections
Alrighty then, let's assume you've made the spectacular decision to buy yourself a trailer. Before finalizing a purchase, you'll have to shop around, tour a variety of models, and most importantly: perform a pre-purchase inspection on the rig you want to buy.
This is under the presumption that the travel trailer you buy will be off the used market because a majority of first-time camper buyers will purchase a gently-used rig for their first RV.
If you want to read an article I wrote that thoroughly details how to perform a pre-purchase inspection, click here. Otherwise, stick around and read my condensed version of the same list below.
What to Know
You'll need to have a clear idea of the kind of traveling you are going to pursue in your travel trailer. This will help you accurately determine if the trailer you are inspecting will meet all of your needs and compliment your adventure style.
Give these questions some careful consideration:
Where will you be traveling in your RV? Will it be hot? Will it be cold?
How much time will be spent in your camper during the day?
How much propane will be used for daily chores like cleaning, bathing, and cooking?
Will you play host to friends and family in this camper?
Will you primarily be driving on smooth, paved highways, or rough, bumpy backroads?
How much storage will you need?
What to Bring
Bringing along these tools and materials will guarantee you have all the gear needed to perform a thorough inspection:
Flashlight
Metal pry-bar
A set of metric and US standard wrenches
Phillips and straight-slot screwdriver
Circuit tester
Multimeter
Several 12V fuses of varying voltages
Latex or rubber gloves
A towel you are OK getting dirty
Sheet of cardboard or plastic tarp
The Inspection
You have the opportunity to avoid a serious headache in the future by taking this inspection seriously. Nothing sucks more than investing in a piece of junk and not realizing it until too late.
Here's what you'll want to look at:
Doors and windows: Inspect the seals of all doors, windows, and exhausts on the exterior of the rig. Look for caulking and seals that are cracked or missing altogether. Improperly sealed penetrations will let moisture and cold air into your RV. Fully open and close all doors and windows to make sure they function properly.
Exterior walls: Warped or cracked walls could be a sign of past damage to the RV's frame, compromising its structural integrity. Holes and gaps in between walls are potential entrances for critters and pests that like to nest in RVs in the winter. Signs of damage from vermin should be taken seriously.
Roof: Give the roof the same inspection you gave the walls. Look for holes, cracks, and signs of damage from past collisions or pests.
Awnings/slide-outs/jacks: Run all awnings, slide-outs, and jacks through their full range of motions. If any of these systems seem damaged or in need of repair, that's a red flag. These components are pricey to replace and repair.
Leak Test: If a hose is available, you'll want to perform a leak test on the RV. Grab a hose and thoroughly soak the entirety of the exterior of the rig. Go inside and look and listen for water leaking into the walls or living spaces. Water that leaks in will cause mold and rot damage and could potentially cause respiratory health issues.
Undercarriage: Laying on your tarp or cardboard, slide under the rig and examine the undercarriage for signs of rust, damage, or pests. Excessive rust and corrosion on the transmission or exhaust are a red flag.
Electrical system: Using your circuit tester, check that all outlets are getting power. Find the AC breaker box and test if all the breakers are functioning. Look at the DC fuse block and check if any fuses have blown, if they have, the associated appliance might be faulty. Turn on as many permanently installed appliances as you can (one at a time), and make sure they function properly. Especially the fridge furnace, and AC.
Battery bank: Find the battery bank and look for signs of overheating of the batteries, or excessive corrosion on the battery terminals. Find the label on each battery and look to see if it's older than 6 or 7 years old. If it is, it will need replacing sooner than later.
Lights: Flick on and off every single light switch you can find. It could be worth bringing a couple sizes and types of RV light bulbs so that if a light doesn't work, you can determine if the wiring is bad, or if the bulb is simply dead. Include rear taillights and brake lights in your light inspection.
Holding tanks: Fill each tank with fresh water and see if there are any leaks in the tanks or water lines. Check that tank sensors accurately display how full the tanks are. Inaccurate tank sensors will need to be replaced or thoroughly cleaned. Drain each tank, looking for blockages in the drain pipes and breathing pipes.
Faucets and shower: Before draining the freshwater tank, test all faucets in the rig, along with the shower. Listen to hear how long it takes the water pump to kick on, and make sure it provides steady water pressure to every plumbing appliance. Give the water heater an eyeball and look for signs of overheating or propane leaks.
Water lines: While testing faucets, listen for dripping in the walls. If you hear or see signs of water leakage in the walls, that's a red flag. Plumbing repairs that require partial demolition of the walls can be pricey.
Propane Tanks: Examine propane tanks for signs of damage. Sniff near the valve to smell for any natural gas leaks. Check tank labels and make sure they are no older than 8 or 9 years. At 10 years old, propane tanks are generally not viable for refilling.
Safety Equipment: All RVs should have modern and functioning smoke detectors, carbon monoxide detectors, and fire extinguishers.
Not too bad, huh? It's thorough, but trust me, if you're buying an RV you'll want to be thorough.
If you are planning on buying a trailer new from a dealership, give this article a read through. It has a bunch of great tips on how to negotiate the best deal possible on the RV of your dreams.
Pros and Cons
Before I wrap this article up, let's recap some of the points I've made with a little pros and cons list.
Pros
They are inexpensive compared to motorhomes
Once camp is set up, you have the freedom to drive your towing vehicle wherever
Easy maintenance and low cost of repairs
Slower depreciation of financial investment
Cons
You might need to upgrade your vehicle to a towing vehicle with more power
You will need the ability and confidence to tow a large trailer for many hours
Smaller travel trailers have fewer amenities than motorhomes
If you aren't thrilled at the idea of owning a travel trailer or a motorhome, check out this fiberglass truck camper that fits directly into the bed of a truck. With this camper, you'll have no additional motor to worry about, no need to tow anything, and you can easily store it when not in use. A whole new world of camping leisure.
How To Justify Buying a Travel Trailer
At this point, I hope you don't have to justify buying a travel trailer. If it feels like the right choice for you, you'll know.
Personally, I consider my time spent outdoors, and traveling in a trailer as some of the best experiences I've had in this life. I would love it if you got to experience that joy as well.
So get out there! Start looking for the perfect trailer for you and have some money saved up so you can pull the trigger once the ideal trailer finds you. Let the adventures begin!