16 Tips for Negotiating a Great Deal on a Trailer Purchase
You need to know that RVs usually have huge markups that can go above 50% so dealers can be able to reduce the price if you negotiate well. Because they will still be making a big profit even when they give you a discount.
It's possible for you to negotiate a 25% discount on a travel trailer from a private seller. Whereas, you can save 20% on an old RV and 35% on a new one when you buy from a dealer.
Here are the tips you should follow when negotiating to get a great deal to ensure on your travel trailer:
Buy a used RV
Old trailers just like used cars are more affordable than new ones. Moreover, you may be able to purchase one at a good deal if the private seller is desperate to sell because they cannot afford the RV's maintenance costs.
Or want to recoup some of their money after they realized that the RVing lifestyle is not for them. However, when buying a used RV, you should opt for one that is lightly used and is not older than three years to avoid spending more money on repairs and upgrading.
The main thing you should also look out for before making a purchase is water damage because it is expensive to fix. Ensure that the roof has no stains or mold, as that is an indication of a leaking roof.
Do market research on prices
Before you go to buy a travel trailer, shop around to know how much the trailer you want costs. Check out Nada Guides for new campers and TV Trader along with RVUSA for used RVs.
So when you find that the RV price is way above what you found on these sites, you can let the salesperson know. By showing them that you know how much the trailer should go for, you can have the leverage to negotiate the money and get a better deal.
Set a budget before making a trailer purchase
Decide on the maximum price you are willing to spend and stick to it. Dealers will try to get you to spend more on a trailer, but you should resist them. When you have a budget, you can use it to get the salesperson to offer you a lower cost by letting them know that the price they are offering is above your budget.
Besides that, when you set the maximum amount of money you are willing to spend, it can be difficult for the salesperson to convince you to go above it because you know what you want.
Make a purchase at local RV shows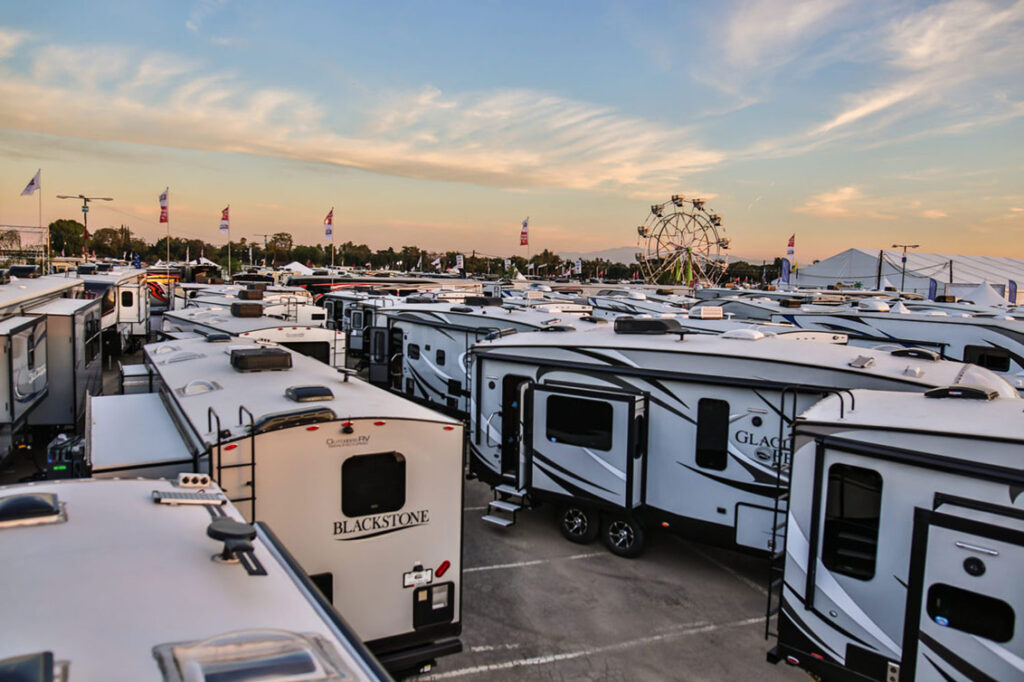 Attend an RV show in your area and look around at the different travel trailers on sale. Find out all the features they have that you would want in a trailer and their prices.
After you have zeroed in on the one you want, wait until the last day of the show to buy one. RV dealers will be open to negation on this day because they want to make the sale and avoid towing the trailers back to their dealership's lot.
Shop during camping offseason and at month ends
During camping offseason when it's cold and most people prefer to stay indoors than go camping, demand for travel trailers will be low. This can not only force dealerships to reduce prices so as to still make sales but also to be open to negotiations.
You can also negotiate a good deal on your travel trailer at the end of any month because RV dealers want to reach their month's targets.
Offer to buy two travel trailers
Because RVs cost a lot of money, it might be shocking to suggest that you buy two at a go. But it's possible for you to do that by sharing costs with a friend who also wants to buy a trailer.
All you have to do is have a written agreement with your friend before you visit the dealership. While at the shop, ask the salesperson to give you a package deal since you are buying two trailers at once.
You will definitely get a good price for the RVs because you will be giving the dealership more money than you would if you were buying only one RV.
Offer to buy the RV with cash
Much as dealerships can get good interest from financing, they would rather get the money for the RV upfront.
This is because, along the way, most RV owners default on payment if the RV maintenance costs become too much for them. Or when the RV gets damaged, and they are unable to continue using it.
By offering to pay with cash while negotiating, you will get the salesperson to lower the price because they do not want to lose your business to a competitor.
Buy from a new dealership
New dealerships that are a year or two in the business are always looking to make sales to stay in business. These can be more willing than old dealerships to offer you a great price when you negotiate because they cannot afford to turn you away.
Considering that, you can threaten to go somewhere else if they are hesitating to reduce the trailer purchase cost to get them to agree on a deal.
Check out different brands
You may prefer a particular brand, but that brand may be more expensive than others, especially if it's popular. Moreover, a brand with lots of customers may not be willing to offer you a cheaper price because they know that there are people who will buy the travel trailer at their offered price.
So it's best to compare prices with different brands because, at the end of the day, they all sell the same product although the features may differ. You should buy from one with lower rates and even negotiate with their salesperson before making a purchase.
If you decide later on that you need more features like solar then you can add them.
Tell the salesperson that another dealership is offering a lower price
Visit the different dealerships in your local area and find out which one has the best price for the trailer you want. After, go to another dealership and let them know that you were offered a cheaper price for that same RV.
Knowing that you could go back and buy from their competitor, the dealer will decide to sell it to you at a lower price than you were offered. In turn, you will save more money than you would if you had bought from the salesperson with the cheapest prices on the market.
Walk away after your first visit to a dealership
Avoid getting excited after finding the right travel trailer and deciding to buy it at once. Showing your eagerness to own the RV will stop the dealer from giving you a discount because they know you are desperate to make the purchase.
Instead walk away after being shown around. The dealer might stop you from leaving without the trailer by offering you a discount. Or they will call you later to offer you the camper at a bargain.
Tell the dealer that you need more time to think about the offer
When the dealer has finished showing you the travel trailers you are interested in and also discussed the price with you, let them know that you need some time to think about it.
This will signal to the salesperson that you are thinking of buying from another dealership that offered you a better deal. So they will lower their price to get you to pay there and then.
Let the dealer know that you are willing to wait for the winter season
No good salesperson will allow you to walk away after saying that because they know they will make much less if you bought the travel trailer during that season. As the low demand for the RVs in winter pushes down their prices.
Yet, dealers still want to sell their travel trailers so they can be pushed to offer them at much cheaper prices because they want to meet their targets for the year.
It's best to tell them that after you realize that you are not getting anywhere in your negotiation. The dealer will be forced to budge on the price and you will save some money on your purchase.
Tell the dealer that you will purchase the trailer now if they reduce the price
Saying this can show how serious you are about buying the RV, and it will get the dealer to lower the price as requested because they want to make a sale.
Also, it will trigger their fear of missing out on your business because they know that if they do not, you will take your money to a competitor who is willing to offer you a discount.
Let the dealer know that you can get a new trailer for that price
This is another good reason why you should know the prices for both new and used travel trailers. Bringing up the fact that you know how much new RV costs while trying to purchase an old trailer will show the seller that you know the RV industry.
It will also get them to offer you a much lower price because they realize that you will take your business elsewhere.
Point out problems that need to be fixed on the RV
Both new RVs and used ones can have issues that need fixing that you can point out to the seller. However, do it in a polite manner to avoid annoying them that they refuse to sell to you and yet you had liked the camper.
By letting the dealer or private seller know how much you will have to spend to repair the problems, you will get them to lower the price for you.
When is the best time to buy a Travel Trailer at a Cheap Rate?
It's best to buy a trailer in camping offseason during the fall and early winter seasons, especially in October and November when most people prefer to stay indoors rather than go RVing.
During the fall season, dealers are desperate to sell their RVs before the year ends to meet their annual targets. Whereas in winter, especially at the beginning of the year in January and February, dealerships want to sell off the old stock before the new RVs are brought in.
So they will lower the rate to give you an incentive to buy a travel trailer during this time. Moreover, it can be easier for you to negotiate the price and get the trailer at a lower cost.
For private sellers, they might be looking to buy new RVs and in order to do so, they have to sell off their old one. While others may have realized that the RV lifestyle is not for them and what to get the RVs off their hands. Either way, both will want to create space in their parking lots and will offer the travel trailers at a cheaper rate.
How Best to Avoid Getting Scammed When Buying An RV?
You can avoid getting scammed when you go to buy a travel trailer by doing thorough market research before you meet up with a dealer or private seller. Find out the price of the model you want to buy from different dealerships and online on Nada Guides for new RVs or on TV Trader for used ones.
With an understanding of how much the trailer will cost, you will know when a trailer price is way below value, which should alert you to the fact that the sale could be a scam. The seller might actually try to use illness, living abroad, or other false personal circumstances to explain why the price is low, but you should not fall for them.
On the other hand, a salesperson won't be able to convince you to buy it at a much higher price when you know the trending market price.
Also, when buying an old travel trailer, thoroughly inspect the RV to ensure it has no serious damage, especially water damage before you buy it because it is expensive to fix. If you are not knowledgeable about trailers, hire a professional to inspect the vehicle.
Moreover, you should avoid making a deal with a seller who:
If they provide a wrong number or no number on their ad, and also prefer to only communicate by email.
Gives many excuses as to why you cannot physically check out the trailer you are interested in buying.
Requests for your personal information, especially the financial one early in the transaction process.
Asks you to make a deposit through wire transfer or pay in form of a gift card. One doesn't need an ID to collect funds sent through a wire transfer so to be on the safe side, always use Escrow if you have to pay online for a travel trailer. With regards to gift cards, keep in mind that they cannot be refunded or traced.
Brings in another company to handle the deal. As earlier stated, only use Escrow as a third-party company to make payments to the seller.
FAQ
when is the best time to buy a travel trailer
The best time to buy a travel trailer depends on several factors, including the time of year, the availability of inventory, and the demand for trailers. Here are some considerations to keep in mind:
End of the season: The end of the camping season (usually late fall) can be a good time to buy a travel trailer, as dealerships may be looking to clear out inventory to make room for new models.
Off-season: Winter months, when camping and RVing is less popular, may also be a good time to buy a travel trailer as demand may be lower, and dealers may offer discounts to encourage sales.
Model year changeover: When manufacturers introduce new models, dealerships may discount outgoing models to make room for the new inventory.
Sales events: Many dealerships offer sales events during holidays such as Memorial Day, Fourth of July, and Labor Day, which can be a good time to buy a travel trailer.
Used trailers: The best time to buy a used travel trailer is often in the off-season or when demand is low.
It's also important to keep in mind that prices and availability can vary depending on your location and other local factors. To get the best deal on a travel trailer, it's important to research prices and inventory, and be prepared to negotiate.
Conclusion
When buying a travel trailer, whether a new one or a used camper, always remember to do due diligence to get the best deal and avoid getting scammed. Remember to take your time as you negotiate with a dealer. Try out multiple sellers and find out what time of the year is best for making a purchase.