The Variables
Considering each of the following factors will help you to determine if you would rather stay in hotels or cruise around the country in an RV.
Budget
Cost is king while traveling, and for most people, staying within their budget is the deciding factor on whether they travel in a car or an RV. A majority of the variables listed in this article will play into the overall cost of a trip, and, in turn, whether or not the trip is staying under budget.
If you are amongst the ranks of those who do not need to consider budget while traveling, much of the information in this article will not be pertinent to your situation. If money is no object, then your decision essentially comes down to a matter of preference.
Group Size
Checking a large group of people into a hotel is pricey, especially if you have to book multiple rooms to ensure everyone is comfortable and has a bed. Alternatively, squeezing a large group into an inadequately sized RV is almost guaranteed to be a tight and unpleasant experience. In this regard, there is a fine line between being economical and being stingy. There's no point saving a few bucks if everyone ends up being miserable.
Luckily, if you are renting an RV, you can always upgrade (at cost!) to a larger rig in order to accommodate group size. Very large groups (8-12 people) will need two rigs available to go the RV route, otherwise hotels are the best option.
Food
There is potential to save a significant amount of money on food costs by traveling in a camper. This is primarily due to the ability to buy, store, and cook your own food. Restaurants are expensive and relying on them for two or three meals each day adds up quickly. This is especially true with large groups. While it might not be a big deal for two people to eat out every day, feeding five or six people at a restaurant is not cheap.
Utilizing an RV's kitchen allows you to buy bulk ingredients, cook delicious, nutritious food, and save leftovers for snacking on later. Overall, a win-win. It also helps the wallet to not be tempted by fancy cocktails and drinks while out.
Now with that said, if you and your crew like to eat out as part of the travel experience and are willing to cough up the dough to make that happen, by all means go for it. I have a number of friends and family who love going to fun restaurants as a way to explore a region. They know they could save money by cooking on their own but simply prefer not to. More power to 'em, right?
Distance
Are you driving to the next state over for a quick weekend getaway? Or are you planning a classic coast-to-coast American road trip?
RVs are notorious for poor gas mileage, and with gas prices higher than ever, many people are looking to save every penny possible on fuel. Short trips in a camper aren't going to break the bank, but anything over 1000 miles and you might want to consider staying in a hotel while you travel.
If you are determined to drive cross-country in an RV, try renting an RV that gets at least 15 miles per gallon. They can be hard to find, but they're out there.
Destination
In some cases, the place you are traveling to will have a large influence on your method of travel. New York City for example, would not be a great place to visit in a large RV. With tricky street parking, heavy traffic and congestion, and high rates of crime, the Big Apple just isn't suited for RV travel. Eastern Long Island on the other hand, with its numerous beaches, campgrounds, and RV parks, is a great location to take the family for a getaway in the camper. Just make sure you are willing to brave a drive through the city to get there!
As a general rule of thumb, large cities and metropolitan areas do not offer ideal conditions for traveling in an RV. Rural areas, mountain towns and National Parks are where you want to head if you are set on traveling in a camper.
Personal Preferences
It's important to consider how you want to spend your days while traveling, as not all styles of travel are conducive to RV life. Would you rather have a nice latte in a cute local cafe, or are you just fine with a steaming pot of cowboy coffee? Is your ideal afternoon spent perusing antique stores or pushing for the summit of the nearest mountain?
If you eat, sleep, and breathe the outdoors, traveling in a camper should provide you with the fix you need. If you prefer exploring shops and seeing what a town has to offer, it might be best to find a fun historic hotel to stay in.
Do you like a little bit of townie life but still want to sleep in the woods each night? Many mountain towns in the American West provide just that. In these western gems it's quite easy to camp in a picturesque location overnight and still be a mere half-hour drive to quaint little towns full of cafes, art galleries and shops selling local handmade goods.
Season
As we've all experienced at some point or another, sometimes the weather just doesn't cooperate with our plans. This typically plays out in the form of a massive storm rolling in the day before setting off on an epic ski trip in a travel trailer. Trust me when I say that adverse weather conditions are not the time to play chicken with mother nature. Even if you and the crew are all sorts of amped up for a road trip in the camper, it's definitely best to cut your losses and rent a room near the resort.
Similarly, if you are planning a summer trip to the city and a heat wave breaks out, it might be a good call to change your plans to a camping trip at your nearest lake. There is no point sweating it out in the city when you could be sipping a cold mojito on the beach instead.
Price: RV vs Hotel
As I said earlier, price is one of the most important factors to consider when deciding if you want to stay in an RV or hotel rooms. But what are the numbers actually like? In the following section I'm going to outline four potential road trip scenarios, and the most significant costs you will incur in each of those scenarios.
Personal RV
In this scenario, you own your RV outright and are able to travel in it as much or as little as you'd like without dealing with rental companies. As with any RV adventure, your biggest expense will be fuel. RVs do not get good gas mileage and each trip to the gas station will be painful.
But there's good news too! What's your biggest expense?
Food can be bought in bulk and prepared in your RV's kitchen. Lodging is taken care of, (especially if you plan to boondock!). Even if you do stay at an RV park, park fees aren't too bad usually. Yard and board games take care of evening entertainment while Mother Nature takes the day shift. All and all, it's a pretty cheap trip!
Rental RV
Renting an RV is not cheap. Depending upon how large and luxurious of a model you are going for, you should expect to pay between $100-500 per night for an RV rental. In addition to per-night rental fees, you will likely need to pay a refundable deposit and cover fuel costs for the entirety of the trip.
Luckily though, after dishing out all that cash up front, the bulk of your expenses are taken care of. Gas will be an ongoing expense, but that's to be expected. Everything else will be as cheap as if you owned your own RV.
In this scenario, your biggest expense is definitely the per-night RV rental fees.
Personal Car + Hotel Room
A vast majority of people road-tripping in America are driving a personal vehicle and staying in hotel rooms overnight. From personal experience, I consider this to be the cost equivalent to renting an RV. Depending upon your exact situation, renting a couple of hotel rooms will probably be about the same cost as renting an RV. And while you might save some money on fuel by driving a fuel-efficient car around, those savings will be eaten up (literally!) on food costs.
Rental Car + Hotel Room
This situation should be avoided if possible. Renting both a car and hotel rooms each night adds up quickly. Like, insanely quickly. Not only are you paying a premium for lodging and transportation, but you can't even save some money by cooking your food. Traveling this way is an absolute money-suck.
Unfortunately, sometimes it can't be avoided. This is usually the case for professionals on a business trip to a new city. Luckily the company usually fronts the cost for cars and hotels on business trips.
If you are traveling to the USA as a foreigner and want to indulge in your own Great American Road Trip, I suggest renting an RV over renting a car and staying in hotels. It will save you money in the long run, and you'll see a whole lot more of this country's beautiful scenery.
Price Recap
So, what's the cheapest option?
Traveling in an RV that you own outright is generally the cheapest way to travel in the United States. To ensure you are making the most out of each dollar, cook all of your meals and boondock whenever possible. By being intentional with your meals and where you stay, your biggest expense will be fuel.
If you are looking to really save money on your next trip, buy a lightweight trailer built before the year 2000. A lightweight trailer will save you a ton of money on fuel, and the initial investment on a 20-year-old trailer won't break the bank.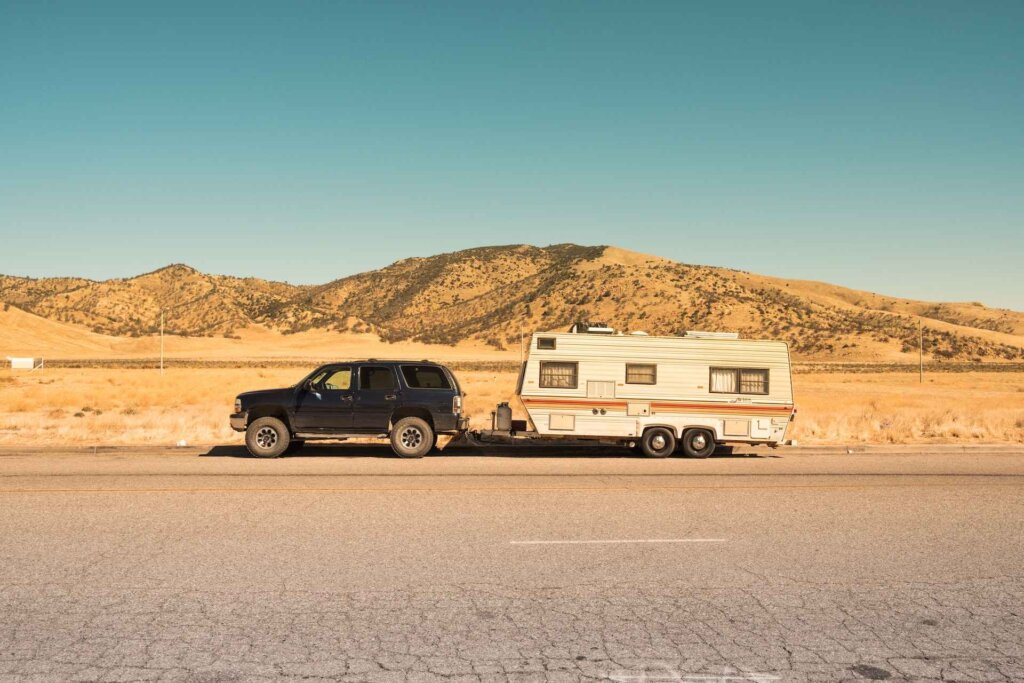 ---
Frequently Asked Questions
See what your peers are asking about RV travel.
Can you rent Class A motorhomes?
Yes, you can rent Class A motorhomes from online rental platforms like Outdoorsy.com or from local RV rental companies.
Should I buy or rent an RV?
If you travel often and have sufficient space to store an RV, I suggest buying over renting. Consistently renting an RV is an easy way to blow a lot of cash fast.
---
Conclusion
In the end, whether you travel and stay in an RV or rent hotel rooms will be decided by a mixture of circumstances and personal preference. Sure, you may prefer to camp when you travel, but if you are in town for business, it might not be the best idea to show up to a meeting looking like you just crawled out of the woods.
Just do what feels best for your situation and what aligns most with your budget.
Happy travels!