RV Levels
An RV level is a quite simple and inexpensive part, available for purchase at many RV suppliers and online.
In my opinion, an RV level essentially looks like someone just took the bubble component out of a regular carpenter's level, put some adhesive foam on the back, and slapped it on their RV.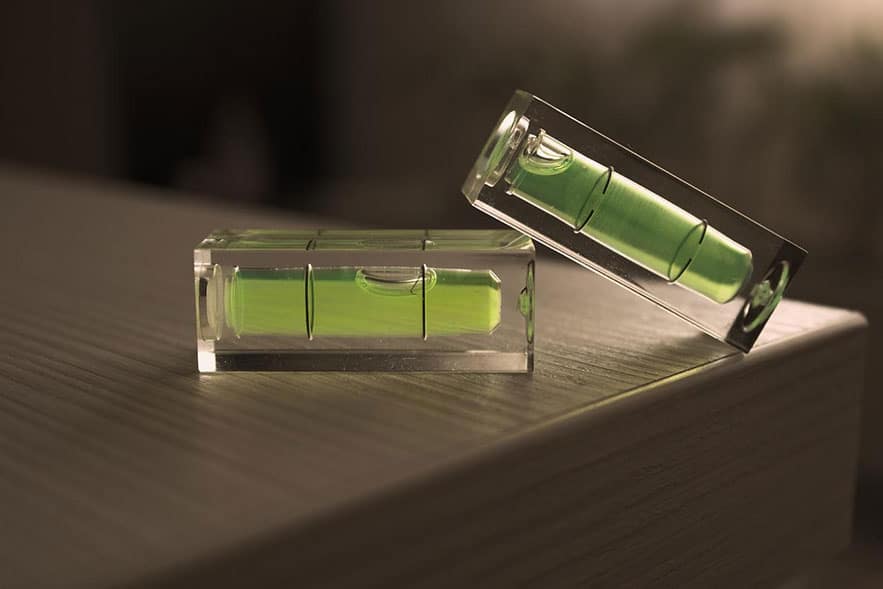 RV levels function in the same way as a carpenter's level. They contain a small, clear tube that is filled with a yellow or green liquid and a bubble of air and is marked with several black lines.
When the bubble of air is centered perfectly between the two innermost black lines, you know that the RV level and whatever it is secured to is sitting level. This action with the bubble leads some people to refer to them as "bubble levels".
The major difference between a carpenter's level and an RV level is the stick. At a carpenter's level, the bubble component is housed in a long, flat stick, so the tool can be placed on things to determine their level.
With an RV level, your RV itself essentially becomes the stick. The bubble is secured to your RV at several strategic points and will display to you how to level your RV.
Once installed, the leveling process is greatly expedited. Just run around adjusting the stabilizer jacks until all bubbles sit centered and you know you are good to go.
Where to Place Levels on a Travel Trailer
When installing these helpful, little gadgets, placement is key. You can't just slap them on willy-nilly and expect accurate readings when you go to level your RV in the future.
Most travel trailers will have either three or four RV levels installed. For best results, you'll want to install each one above the pivot point of the axis they are measuring for.
So, for example, at the front of your trailer, the point on which your trailer will be able to rock side to side will be the part of the hitch assembly called the tongue jack, also known as a drop leg in some regions. With this in mind, you should install the RV level on the body of the trailer, directly above and centered on this point. This will ensure maximum accuracy of the level.
Similarly, on a single-axle trailer, each side level should be installed directly above the center of the axle because this is the camper's front-to-back pivot point. On a trailer with a double-axle, the level should be installed centered between the two axles.
Additional Tips
Keep these tips in mind when installing levels on your trailer:
Your trailer must be PERFECTLY level before installing your own levels. To level your RV, first park in as flat and level of an area as possible. Then use stabilizers, leveling blocks, wheel chocks, and long carpenter's levels to dial your trailer into a perfectly level position. Take as long as necessary to achieve this. Only once you feel confident you are as level as possible should you actually install RV levels.
Install the levels low on the body of your trailer. The closer they are to the ground on which your trailer is resting, the more accurately they will read.
You can never have too many leveling blocks. Someday you will be happy with the surplus.
Need more tips on leveling a camper? Pop on over to this article I wrote about leveling a pop-up trailer. It's filled with easy-to-follow tips and instructions for leveling travel trailers. Also, if you find yourself in the unique position of needing to level a trailer without moving it, give this article a read.
Importance of a Level Trailer
Why all the fuss over a level trailer? Is it really that important?
Absolutely.
Personally, I get very bothered when camping in a trailer that is not level. It probably has to do with my decades of experience as a carpenter, but for whatever reason, I can immediately tell if a trailer is out of level when I step into it. When awake, I can typically ignore it, but once I head to bed, I am frustratingly aware that the surface I am sleeping on is not level.
In my opinion, that is reason enough to strive for a level trailer. But in addition to this, the functionality and performance of several RV systems are at stake if your RV sits out of level for too long.
Fridge
There is a good chance that the fridge in your travel trailer will not work properly if not leveled.
Many RV refrigerators (especially older models) use absorption refrigeration to keep the unit cold. In these types of refrigerators, gravity is utilized to transport a mixture of cooling liquids throughout the cooling unit of the fridge.
When run off-level for too long, heat can build up in the fridge's boiler, causing sodium chromate -a constituent of the cooling liquid- to crystalize and create a blockage point in the cooling system pipes.
When this happens, it's bad news for your fridge, and will often result in costly repairs or the need to replace the fridge entirely.
Plumbing
Your travel trailer almost certainly uses tank sensors to monitor the level of liquid in your waste tanks. These sensors are quite accurate when a camper sits level, but can misread when the RV is resting on a slope.
Have you ever noticed the fuel gauge in your car can change dramatically when going up or down a steep hill? Your RV tank sensors react the same way to incline. Properly leveling your RV every time you camp will help to ensure you always know how full your holding tanks are.
If leveling big trailers and worrying about expensive RV systems sounds tedious and unappealing to you, consider buying an off-road camper trailer from a custom camper manufacturer, Ecocampor. These hardy campers have everything you need for a sweet and simple backcountry adventure.
Frequently Asked Questions
How much do RV levels cost?
At your local RV supply store, you should be able to find a pack of two RV levels for around $10-15. When ordered online, RV levels generally cost between $5-10 before shipping.
Should I buy adhesive levels or screw-ins?
Totally up to you. Adhesive-backed levels are often slightly cheaper than the screw-in variety but the adhesion might eventually fail. Screw-ins are more costly, but you can trust the installation to be permanent and reliable.
Pro-tip: Turn some cheap adhesive-backed RV levels into screw-ins with just a drill, a small drill bit, and some stainless-steel screws.
Final Thoughts
When you go out camping, try to give leveling your camper the time it is due. It's not anyone's favorite task but will benefit you in the long run. Spending an extra 15 minutes to adjust your rig and make sure one side is not higher than the other can prevent future headaches over unexpected repairs.
So go pick yourself up some RV levels, give them a quick install, and enjoy the rest of your summer in your now perfectly level camper!