Spirit Lifestyle light weight campers
Spirit Lifestyle camping trailer for family
Interior
Sleeping Configuration:
Sleeps 2
1x roof top tent
1x spring mattress
Batteries:
Maintenance Free Battery
Floor:
Wood
Lights:
LED Light
Exterior
Material:
Galvanized sheet
Roof top tent:
2400 (L) * 1400 (W) top tent
Chassis:
Steel+Hot Dipped Zinc Fully Galvanized
Suspension: Independent Suspension System
Tires:
265x75xR16 Off-Road Tires with Two Spare Tires
Wheels:
16″ Alloy Wheels with a Black Powder Coated Finish
Brakes:
12″ Electric Tow Brake with Mechanical Handbrake Breakaway System Include 2x
MEASUREMENTS
Height of Chassis From Ground:
590mm(Drawer Bar)
Internal Dimensions:
3450L*1800W*1700H/mm
ATM: 2000 KG
GTM: 1800 KG
Plumbing
Shower:
Outdoor Shower with attachable Privacy Tent & Interior Full Fiberglass Shower enclosed with ventilation
Sink:
Large Interior Stainless Steel Sink and Outdoor Stainless Steel Drip Sink
Toilet:
Portable Toilet
Water Tanks:
Fresh Water:
80L stainless steel water tank
Grey Water:
60L stainless steel water tank
Hot Water:
Hot Water System
Drawer Bar:
Welding, Saqure Tube Size 150*50*3.0mm
Front Jockey Wheel:
Left Lifting Type
Kitchen & Sink:
This camper trailer comes with a sliding-out kitchen setup and a sink. You can cook and enjoy your favorite food with your family or friends, and after that, a sink is available to wash the dishes for the next meal.
Appliances
Fridge:
Alpicool 50L 12V
Outdoor Propane Stove
Entertainment System:
MP3 Player
Internal Stereo*2
Safety:
Fire Extinguisher, Smoke Alarm and Propane/CO Detector
Refrigerator:
To store the food items of the end-user, we have put a refrigerator in place with a capacity of 50L in the trailer.
Fresh Water Tank:
A freshwater tank is also placed in the expedition camper with a capacity of 80L that you can use to store the water for drinking and washing.
Gas Bottle Holder:
Two 9kg gas bottles holder are given with the caravan that can be used to hold gas cylinders according to required consumption when families travel to adventure.
Electrical
Electrical System:
12V/ 110V Electrical System
Battery:
2x 100AH
Solar:
2x Roof Mounted 150 Watt Solar Panels
Internal Lighting:
LED Reading Lights in Bedroom
External Lighting:
Wide Angle Side mounted LED Flood Lights Front & Rear LED Light Bar
Exclusive Benefits of Expedition Trailer
This model was designed for those who want something comfortable, compact, functional, and can be towed without requiring a full size 4×4.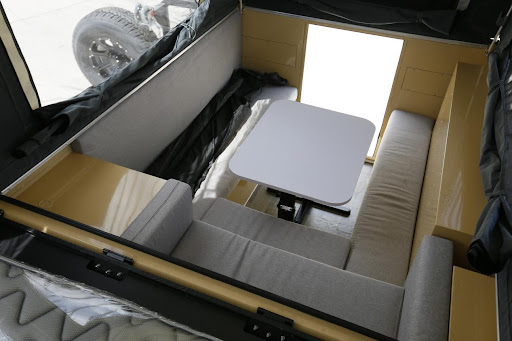 Complete with a comprehensive electrical 12V system, galvanized and fully welded chassis, aluminium trim, and electric brakes are only some of the technologies in use on this camper that is made to take you the distance.
Small yet incredibly capable, read to follow you wherever your hearts desire. You may even forget it is back there.
Now you can have it all. The Expedition X is the best value for money fold camper you can find. It blends comfort, capability and convenience without breaking the bank.
Business Opportunity for Wholesalers
If you are a wholesaler or dealer and find yourself interested in wholesaling this RV then we are looking for you.
Fill the form below to get a quote for this expedition trailer.
We will give you the best quote for you, Let's Talk