Add all that up, and you've got a lot of RVs. But eventually, every single one of those campers will be past its prime and need to be disposed of. Or, if your RV still has some life in it, it may just end up in need of a new home. So grab your favorite beverage and get cozy while I relate to you the best and most creative ways that I've seen people repurpose or get rid of their old camper.
How to Get Rid of An Old RV
Assuming you are here because you have an old RV that is beyond repair or any form of repurposing, I'm going to first go over the ways to simply dispose of your camper.
Just because an RV is old doesn't mean it's totally worthless. Dismantling an RV and selling its parts individually is a great way to make a bit of cash while also being eco-conscious. A task like this isn't for the weak-willed though, and you will need some tools and dogged determination to get it done.
Focus on pulling all of the high-value appliances first. Fridges, furnaces, stoves and plumbing fixtures will be your top earners. Electrical components are also valuable but must be worked on with extreme caution. Before working on removing any electrical components, remove any and all batteries from the rig and ensure it is not hooked up to shore power. You essentially want to guarantee the camper is 100% powerless before touching any tools to the electrical panel.
Inverters, converters, breaker boxes and solar panels are all worth salvaging for resale. Copper wire is valuable and can be sold to recycling centers, but it is unlikely to be worth the effort of pulling it from the walls.
As you dismantle and remove appliances, keep track of all of the miscellaneous hardware that is removed and toss it all in a plastic bag that can be taped to the appliance itself. This small act could save a potential buyer many hours sourcing outdated or unique hardware.
If you are a real go-getter and like this kind of project, the whole rig can be dismantled and materials like fiberglass, steel, and aluminum can be sold as well. Any parts of the rig that you can't manage to sell can be hauled off to a landfill for permanent disposal.
Sell It to a Scrap Yard
A scrap yard is a business that operates by buying decommissioned and totaled vehicles and dismantling them into their component parts and materials. Usable parts are saved for resale while scrap material is sold to recycling companies. They essentially perform the process I described above, but on a professional level. Scrap yards are also known as "salvage yards" and "wrecking yards".
Most scrap yards will take an old camper off of your hands, but don't expect to walk away with a bucket of cash from the deal. Similar to scrapping an old car, the highest payout you can expect is usually in the $500 range.
In some cases a salvage yard will only toss a couple hundred bucks in your direction for an old camper. This is mainly due to the fact that RVs aren't constructed with very many high-value recyclables.
Donate It
If you cringe at the thought of your precious old camper being torn apart and tossed away like trash, you may be able to donate your camper. Technical colleges and fire departments occasionally accept vehicle donations for training purposes.
Being an RV technician is a specialized skill within the world of automotive mechanics and requires specialized training programs. Technical schools with automotive programs sometimes jump at the chance to have a free project vehicle for their students to practice on.
Alternatively, fire departments frequently run training programs that involve intentionally setting a fire in a vehicle or structure and performing rescue drills. Volunteering your rig for one of these training programs might give your local firemen a unique opportunity to train for RV-related fires and emergencies.
Unfortunately, both of these options will inevitably result in the destruction and/or disposal of your camper, but you'll have peace of mind knowing that it served a great cause at the very end.
Don't go about assuming or expecting that your nearest college or fire department will want your old camper. It's not a super common thing to donate, and they might decline. If you experience this, try calling around other schools and agencies in your region to learn of other ways to donate your camper.
Haul It to the Landfill
This is a worst case scenario option. A last resort, if you will. As humans living on a polluted, rapidly decaying planet, we should be trying our hardest to keep as much trash out of landfills as possible.
Unfortunately though, sometimes it has to happen. If you have an old rig that has been sitting in your yard slowly deteriorating, it may be best to haul it to a landfill and be done with it. At least then it will be in an area already designated for trash and pollution, instead of slowly polluting the nature and land around your home.
Most dumps and landfills have specific requirements for the disposal of vehicles, especially ones as large as an RV. Give your local dump a call and they'll let you know the requirements and proper steps to get the job done. RV disposal at a dump might come with a small fee in the $50-100 range.
Getting Rid of a Still (Mostly) Usable RV
In some cases, an old RV still has a bit of life in it and doesn't need to be torn apart or hauled to the salvage yard. If your camper doesn't quite land in the category of "junk RV", you should definitely consider one of the following options.
Sell It Online
There's a good chance that many folk would jump at the chance to buy your old camper if they could pick it up for a good deal. People might want an old RV for any number of reasons. They could want extra lodging on their land to host guests in but don't want to build a structure from the ground up. Or maybe they have the same model camper and need an old rig to harvest parts and materials from.
In some cases people are simply looking for a project rig. They'll buy an old camper (especially if it's a coveted vintage model) and spend a year or two refurbishing it as a side project.
The easiest way to sell online is to post a thoughtfully written advertisement on several classified platforms online. Craigslist, Facebook Marketplace, and OfferUp are popular platforms for selling motorhomes and travel trailers. Be honest in your ad and don't try to sell for more than your rig is worth. That energy will come back and bite you in the long run.
If you are able to make a small chunk of change off of your old camper, you can turn around and reinvest that money in a shiny new motorhome or a rugged truck bed camper.
Give It Away
Not interested in the hassle of selling a rig? Fair enough. Haggling with strangers and weirdos online isn't exactly appealing, especially if you aren't in need of making money off of your old RV.
But there is a good chance that a friend or family member would happily accept a free camper, even despite its aged condition. Find a happy new home for your rig by broadcasting to your social circles that you are offering up a free camper. Many ears will perk up at the sound of "free". Making a post about it on social media will almost certainly connect you with someone interested.
If none of your friends or family are interested, try reaching out to the outdoor community in your area. I can guarantee that some young ski bum, climber, or biker will be ecstatic to be gifted an RV of any condition.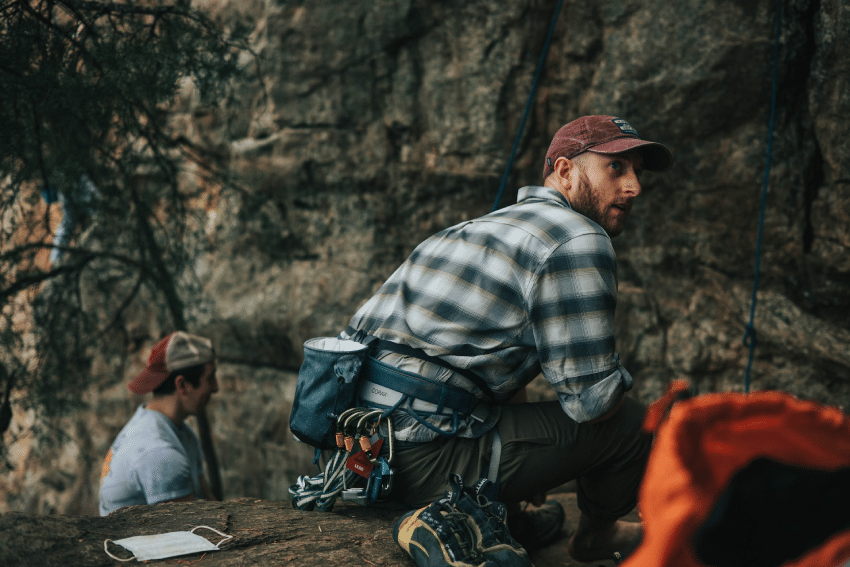 Donate It
Wait… didn't I already talk about donating your old RV? Sure did! But donating an old and decrepit camper is a totally different scenario than donating one that is still livable.
Certain non-profit organizations and NGOs will happily take a donation of an old motorhome or trailer. These sorts of organizations take donated RVs, clean and fix them up, and in turn, donate them to people in need.
Vehicles for Veterans is a well known organization that supports disabled veterans by providing them vehicles free of charge. The donation of your RV could turn a veteran's life around. Vehicles for Veterans and other non-profits that accept RV donations typically offer free pickup, making the donation process that much easier.
Turn It into Lodging
In my opinion, one of the most creative ways to get rid of an old RV is to not get rid of it at all! Instead of bidding farewell to your beloved camper, you can permanently decommission it as a vehicle and turn it into an additional dwelling unit on your land.
Old RVs, especially vintage models like Airstreams and 80's Winnebagos, make fun and funky guest houses that can be utilized when friends or family visit. Now, do you want to be putting your 95-year-old great aunt out in the RV BnB? Probably not. But I know a lot of kids and teens that would jump at the chance to "camp" in a relative's refurbished camper-turned-guest house.
A project like this is labor intensive and will undoubtedly require a financial investment, but if you're an avid DIYer this could be a perfect project for you. If you need inspiration, just take a peek on Instagram or Pinterest and see how other folks have renovated their rigs.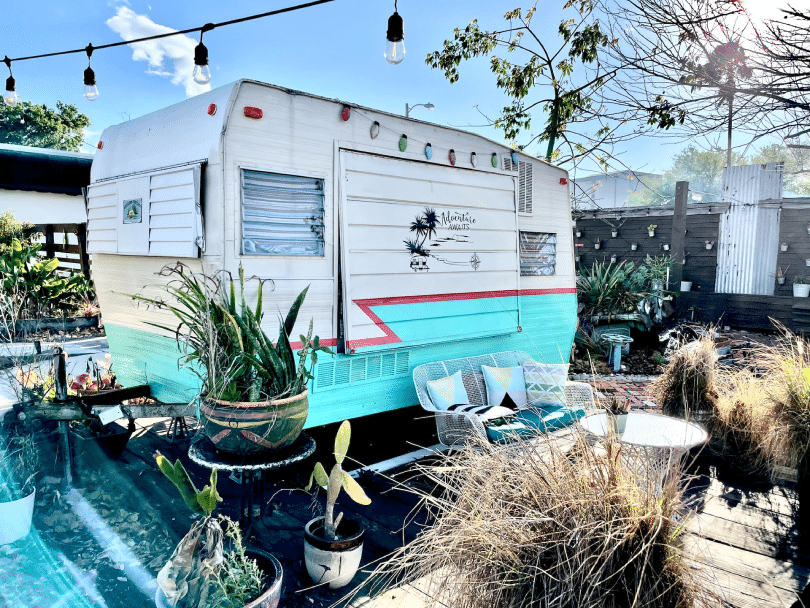 Frequently Asked Questions
Our readers have been asking us questions about what to do with their old RVs. Check 'em out!
Is it legal to live in an RV on my property?
Tough question. The legality of using an RV as a permanent dwelling varies widely from state to state and even county to county. Your local zoning department should be able to answer any questions you have.
How much does it cost to refurbish an RV?
This depends entirely on the current state of the RV, and to what degree you want to refurbish it. I would budget around $3,000 for an extremely simple refurbishing project, and somewhere in the $8,000-$15,000 range to really go big on a project.
Can I pay someone to haul my old RV away?
Yep! There is an abundance of waste removal services that will be more than happy to haul away your RV for a fee.
---
There ya have it! I bet you didn't realize there are so many ways to dispose of your old camper!
In my humble opinion, all efforts should be made to repurpose an RV before hauling it to a dump or scrapping it, even if it means a bit more effort or money spent on your end. The planet will thank you for trying your best to keep waste out of landfills.
Now comes the fun part, shopping for a new RV!
Happy camping!