A recent trend in RVing is the increased customer interest in an off road camper trailer. These tough, durable trailers can withstand a variety of challenging terrain while also offering a unique travel experience.
With all of their impressive features, it's easy to see why so many outdoor enthusiasts are turning to these rugged, versatile camping trailers as their go-to choice when it comes to getting out into nature.
In this article, we will dive deeper into what makes off-road camping trailers such an attractive option for RVers and how they provide both convenience and unparalleled access to some of the most spectacular sights across the globe.
Let's explore why off-road camper trailers have become such an important addition to many RVers' wish lists!
offroad travel trailers Popularity Is Increasing Worldwide
The customer demand for off-grid camping is growing rapidly worldwide due to its unique travel-anywhere experience.
Off-road travel trailers are becoming an extremely popular option for those who want to explore places that would be otherwise inaccessible.
Campers can take their vehicles off road and access some of the most breathtaking sights on the planet, far from the hustle and bustle of cities, all while bringing along the comforts of home.
At the same time, more campers are interested in dry camping without relying on traditional sources of electricity or water for their RVing needs.
Boondocking and off-grid camping require a specifically designed, rugged, off road camper trailer that can handle the toughest terrain. These trailers also need their own source of power and large enough tanks to supply fresh water needs for the trip.
Campground Shortages Are Driving extreme off-road campers Demand
Traditional campgrounds are becoming increasingly crowded, and it is difficult to find a spot at times. This lack of campground availability is a large driving force behind this new trend of off-grid camping.
The pandemic changed the way that many people prefer to travel. In the years following 2020, we have seen a huge increase in the number of RV travelers. More people than ever are choosing camping over hotel stays and outdoor nature experiences over indoor sightseeing opportunities.
This increase in camping popularity has led to a higher number of campers than available campgrounds to meet this demand. Many campgrounds are full, and campers are looking for other places to stay. There is a growing campground shortage.
An example of campground overcrowding is seen in the United States camping market, where many campgrounds in peak travel areas are completely booked solid a year in advance or more.
This has left campers scrambling and searching for new options for places to stay. An off road camper trailer meets this new demand by allowing travelers to skip traditional campgrounds and stay in wilderness areas. This type of trailer opens the door to many additional dry camping opportunities with no reservations required.
offroad camper trailers provide the perfect solution for those who want to get away from it all in the great outdoors without having to worry about finding an available campsite!
Why More Campers Want Off-Grid Capabilities
Boondocking or dry camping has been increasing in popularity for years among RVers. The pandemic caused an even more rapid increase in campers looking to stay off the grid.
The greatest appeal of dry camping is the freedom to stay almost anywhere that camping is legal. For many RVers, boondocking is the ideal and possibly only form of real camping.
For campers that really enjoy getting deep into nature, boondocking provides a camping experience with natural scenery and large open spaces for outdoor activities. It is the perfect way to get away from crowds and really spread out in nature.
Camping off the grid is also a great way to save money. As campgrounds have reached capacity due to increased demand, the prices of staying in campgrounds have also significantly increased.
Many RVers are looking for free or cheap camping options to save money and have a more relaxing trip. Many campers also enjoy that boondocking is a great way to camp with fewer rules and regulations.
Having an off road camper trailer provides the freedom to find free legal camping areas in the wilderness or on public lands that have unmaintained or poorly maintained roads. Campers want to ditch the paved road and head deeper into nature.
Traditional campers or RVs can get easily stuck in the mud or damaged by rough terrain or steep angles. Off road trailers are the best campers designed to navigate the toughest terrain and open up many new possible camping areas to RVers.
Benefits Of Off Road Trailers
Off Road Trailers have all of the features of a tiny home on wheels, ready to go for the next adventure. Their go-anywhere capabilities provide the ultimate freedom for RVers and adventure addicts.
These small but rugged trailers have everything needed to hit the open road for a comfortable stay in any camping location.
All of the basic comforts of home are included for even long trips, including convertible sleeping areas, kitchen spaces, air conditioning, and bathrooms.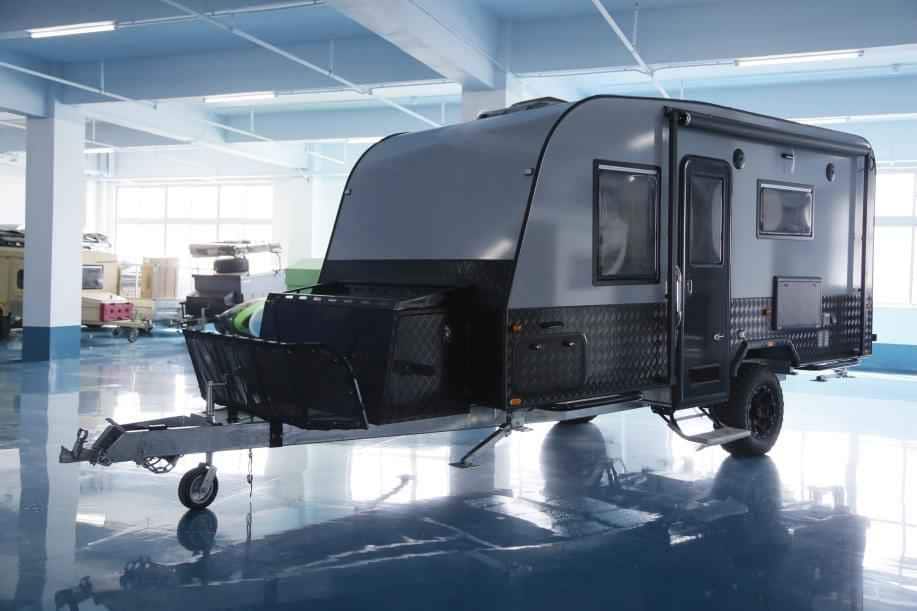 Specific Features And Options Driving The Demand Of Off-Road Campers
Off road trailers are often lightweight, despite their sturdy build quality, which makes them a versatile towing option with many vehicle choices and easy to store when not in use.
Despite their lightweight design, many off-road campers still have plenty of storage space for outdoor gear and a lot of interior space for time spent inside the camper.
Many off grid campers are like rolling accessory wagons on wheels or the swiss army knife of campers. Some hybrid designs have pop-up rooftop tents or even the additional option of an outdoor kitchen/slide-out kitchen. These small trailers really can have it all!
Off-grid camping trailers also often include alternative power sources to make sure the camper has electricity during the trip. Upgraded camper batteries, inverters, and even solar panels are popular options for dry camping.
Having a big enough freshwater tank size for off-grid camping is another feature that makes this style of camper useful for boondocking. You need plenty of gallons of fresh water during your stay without needing to fill tanks.
Safety and durability are major factors when it comes to off road RVing. Off road camper trailers are specifically designed with all terrain suspensions or shock absorbers, and provide more inches of ground clearance and stability needed for an enjoyable, safe experience.
The rugged construction of these off-road model trailers means they can stand up to extreme weather conditions, a steep departure angle, and rocky roads that would leave other campers behind.
A great off-road trailer has a durable chassis to provide added support when driving over rough terrain. This thoughtful design is important for protecting the trailer and its occupants from potential damage.
In addition, many of these trailers come equipped with features such as oversized all terrain tires, heavy-duty axles, load-adjusting shocks, an independent suspension system, electric brakes, and high clearance to make off-road camping safer than ever.
From a classic teardrop trailer design to toy hauler trailers, you can find just about anything you desire in an off-road camping trailer.
3 Reasons Why EcoCampor Is The Right Choice For Off Road Camper Trailers
1) Experienced Skilled Manufacturing Process
EcoCampor was established in 2008 and has 15 years of production experience. Products go through several rounds of 100% testing prior to delivery to ensure product quality.
In fact, more than 75% of EcoCampor campers created over the course of nearly 15 years are still on the road today.
2) Effective Order Handling System
EcoCampor's modern 60,000 square meters factory, combined with an efficient order handling system, allows EcoCampor to produce over 50 quality units per month.
3) The Best Materials Produce The Best Products
EcoCampor is an ISO9001 Quality Certified Business. Only the best materials and the most innovative assembly techniques are used to create and assemble our products. We never cut corners – especially when we can round them.
One Of The Best Off-Road Trailers Is The 16 Foot Off-Road Caravan By EcoCampor
EcoCampor's 16 Foot Off-Road Caravan comes in two versions, the ECO-16A, and the ECO-16B. The ECO-16A is perfect for a couple but also has a dinette that folds into a bed to sleep a 3rd traveler.
The ECO-16B is designed for a family and sleeps up to 5 people. This model has a double bed, twin bunk beds, and a convertible dinette bed. There is plenty of comfortable sleeping space in this off-road trailer.
This off-road adventure trailer is perfect for short trips or longer stays. Its roomy interior has plenty of living space and sleeping areas. It has thick fiberglass walls with heat-sealed insulation to keep campers comfortable in the summer or winter seasons. A Dometic air conditioning system is included as standard equipment.
Bathroom Features
The 16 Foot Off-Road Caravan has a full bathroom with a separate standing hot shower, a Truma water heater, and a cassette toilet perfect for off-grid camping. A wall-hanging washing machine in the bathroom is an optional feature.
Kitchen Features
There is a full kitchen with Thetford appliances, including a 4-burner stove with an oven, a microwave, and a 12V refrigerator. Optional equipment includes a slide-out kitchen for outdoor convenience.
Dry Camping Features
This trailer is perfect for off-grid stays with two 95L freshwater tanks (50 total gallons of water). The grey water tank or wastewater tank has a 125L capacity. The cassette toilet is an important trailer feature to help conserve wastewater tank space.
Solar Power System
One of the most valuable standard features for boondocking is the included solar power system. EcoCampor's 16 Foot Off-Road Caravan is powered by two 100 Watt 12 Volt solar panels, an inverter, and a maintenance-free battery to meet your off-grid power needs.
Off-Road Features
Going off-road demands a quality built trailer, and the EcoCampor caravans deliver. The trailer chassis is made from hot-dipped zinc, fully galvanized steel to be corrosion resistant. This trailer features an independent suspension system with leaf springs, off-road tires, and a single steel axle for rough terrain capabilities.
Entertainment Features
This trailer also doesn't skimp on entertainment. An indoor 24″ LCD TV is included. There is also a stereo system with an MP3 player, indoor speakers, and waterproof outdoor speakers so you can enjoy music when you are hanging out at your campsite.
EcoCampor 16 Foot Off-Road Caravan Specifications:
Trailer Length: 7,777mm
Trailer Width: 2,300mm
Trailer Height: 3,114mm
Trailer Dry Weight: 2,000 kg
Cargo/Max Payload: 500 kg
---
FAQs Off Road Camper Trailer
What makes a camper trailer off-road?
A camper trailer is off-road when it is designed with quality construction to meet demanding road conditions such as rocks, dips or holes, steep angles, and other rough terrains. They typically have an off-road suspension, off-road tires, and an articulating trailer hitch for stability.
What is the best off-road camper trailer?
One of the best off-road camper trailers is the many off-road caravans made by EcoCampor. Their quality construction and detailed design produce a rugged but also comfortable camping experience. Features such as a solar power system, two freshwater tanks, and a cassette-style toilet make camping off-grid easy.
Why off-road campers are so expensive??
Off-road campers have a higher quality design made to withstand the stress and strain of rough road conditions. Upgraded suspension, tires, brakes, and trailer hitches add to the trailer's durability but also cost more. These trailers also often include solar panels for off-grid power. Solar power systems are an expensive but important addition to provide the freedom to camp anywhere.
Which Off Road Camping Trailer Will You Add To Your Inventory To Meet This Increasing Demand?
As more and more customers continue to seek off-road camping capabilities, will you be able to meet this new trend by increasing your off-grid-capable trailer inventory? Consider adding EcoCampor off-road camping trailers. Your customers will appreciate having these quality options available to purchase!