travel trailers are a cherished component of the American adventure scene. They offer families, couples, and solo travelers a unique way to explore the vast expanse of North America. With increasing interest, potential owners now have an array of options to suit every lifestyle, need, and budget. One of the most crucial choices they face? The floor plan.
What is a travel trailer floor plan?
A travel trailer floor plan is essentially the blueprint of the travel trailer's interior. It dictates the placement and organization of rooms, facilities, and amenities. Understanding a floor plan helps determine:
Where the bedroom(s) are located.
The position and size of the kitchen.
Storage capacities.
Bathroom design.
The presence of specialized areas like entertainment centers or offices.
It's like the layout of a home but compacted efficiently for road travel. For RV enthusiasts, whether novices or veterans, the floor plan is an essential aspect of their mobile experience.
Why are travel trailer floor plans crucial?
A travel trailer is more than just a vehicle; it's a mobile home. Hence, the right floor plan ensures:
Maximized Space: Efficient use of every inch.
Comfort: Everyone has their personal space, be it kids, adults, or pets.
Functionality: Aids in daily activities like cooking, sleeping, and relaxing.
Safety: Ensures the weight is evenly distributed, vital when towing.
Enjoyment: With a proper layout, the journey becomes as delightful as the destination.
What are the Different Travel Trailer Floor Plans?
The floor plan of a travel trailer determines the positioning of its rooms, features, and amenities. Just as in houses, different floor plans cater to different needs, making the selection crucial to ensuring the best travel experience.
Front Bedroom Layout
The front bedroom layout is a common floor plan in many travel trailers. By situating the bedroom at the front of the trailer, right next to the tow vehicle, the design aims to demarcate and differentiate the sleeping quarters from the rest of the unit.
This configuration, widely recognized among RVs and travel trailers across North America, aligns well with the lifestyle of couples looking for that blend of adventure and luxury in their travels. It's like having a master suite, which provides a private haven to retreat to after a long day on the road.
Pros:
Provides a distinct boundary between the living and sleeping areas, ensuring that each space caters to its unique function.
An added sense of privacy and seclusion, something many travelers yearn for, especially in an RV setting where space is a premium.
Cons:
Due to its location close to the hitch and the road, this layout might be more exposed to road noise, potentially affecting sleep quality.
Can give a feeling of isolation, particularly when there's significant activity, say a family gathering or kids playing, in the living room or kitchen.
Rear Bedroom Layout
The rear bedroom layout, on the other hand, flips the script by placing the bedroom at the very end of the travel trailer. Jayco, Forest River, and other major travel trailer manufacturers often produce models with this design, targeting those who prioritize peace and serenity during their camping trips.
Pros:
Due to its distance from the road and tow vehicle, this layout typically promises less road noise, offering a tranquil sleeping environment.
The distinct separation from the front provides an entirely different perspective on space, sometimes even featuring slide outs for additional room.
Cons:
If you've ever tried accessing the bedroom when the trailer is hitched, you'll notice that it can be a tad challenging, especially if there are slide outs involved.
Depending on the trailer's design, the view from the bedroom window might be limited, especially if it faces another RV or a wall in a crowded campsite.
Bunkhouse Layout
Delving deeper into travel trailer floor plans, the bunkhouse layout stands out, especially among families with kids. With bunk beds typically situated at the rear or sometimes the middle, this design is a testament to maximizing sleeping space without compromising too much on the overall living area.
Pros:
Can considerably boost the sleeping capacity of the travel trailer, ensuring that everyone from toddlers to teenagers has a comfortable spot.
Kids, in particular, are drawn to the fun and adventure that bunk beds bring. It's like having a mini fort or clubhouse right inside the RV.
Cons:
While bunks are a great space saver, they can sometimes intrude on the living area, making it feel a bit tight or cramped.
The upper bunk, in many models, comes with weight limits, which might restrict its use to younger kids or lighter individuals.
Rear Kitchen Layout
The rear kitchen layout, often found in models from renowned manufacturers like Forest River and Jayco, prioritizes culinary space. For those who cherish the act of cooking while on the road, this floor plan offers a kitchen that's both functional and separate from the main living area.
Pros:
By placing the kitchen at the rear, there's often more room up front for a spacious living room, entertainment center, or even additional amenities like a fireplace.
The separation ensures that any cooking smells, which might be delightful during dinner but less so during bedtime, don't waft into the sleeping areas.
Cons:
Traveling with a kitchen full of utensils, pots, pans, and food items means things can shift around during transit. The rear placement might exacerbate this, requiring careful packing and storage solutions.
While cooking, the view from the kitchen might be restricted, especially if the window overlooks the campsite's rear, which could be another vehicle or structure.
Rear Entertainment Layout
This layout beckons those who can't resist the allure of relaxation while they're on their RV adventures. With the entertainment center strategically situated at the rear, it ensures the living room morphs into a haven of spacious comfort. One could argue it's akin to taking the comfort of your home living area on wheels.
Pros:
Tailored for those unforgettable lounging moments and binge-watching sessions.
Easily accommodates larger screens and premium sound systems, ensuring a quality experience.
Many models have additional features like a fireplace or a u-shaped seating arrangement for maximum comfort.
Cons:
Might have to sacrifice some amenities due to space constraints.
The design of some models might not allow everyone the perfect viewing angle, especially in case of larger gatherings.
Some models might have limited window designs, affecting natural light.
Rear Dinette Layout
When you traverse picturesque locations, having the right RV floor plan can transform your dining experience. Enter the Rear Dinette Layout. It's a design that glorifies every mealtime by offering scenic views, thanks to the dinette's strategic rear placement. Picture this: a campsite overlooking a serene lake or nestled in a forest; this layout ensures you're dining with nature.
Pros:
Amplifies the dining experience, especially when you're stationed at scenic spots.
Doubles as a fantastic spot for board games, gatherings, or casual chitchat.
Some designs incorporate storage cabinets or options for conversion to bunk beds for kids or guests.
Cons:
Shifting the dinette to create a sleeping space might be a tad tedious for some.
In certain models, storage underneath might be limited, potentially affecting the number of items you can store.
Front Kitchen Layout
For those who can't fathom compromising on their culinary adventures, even on the move, the Front Kitchen Layout emerges as the frontrunner. What's the unique proposition? A spacious kitchen, right upfront, ensuring those frequent gatherings are executed flawlessly. The result is an expansive middle living area that accommodates everyone with ease.
Pros:
Facilitates a spacious congregation area, making it the best choice for frequent entertainers.
A boon for cooking aficionados, offering plenty of counter space and cabinets.
Allows for unique design elements, like larger refrigerators or additional storage options in some models.
Cons:
More exposure to road noise, especially during travel.
Possibility of spills or accidents, given its proximity to the RV's entrance, can pose a challenge.
Toy Hauler Layout
Every adventurer yearns for that extra edge, that ability to carry their equipment without a hitch. The Toy Hauler Layout speaks directly to this audience. With a designated garage space at the trailer's rear, everything from ATVs, bikes, or even camp gear finds a home. It's the epitome of design meeting adventure.
Pros:
Seamless transportation of larger toys; be it for land, water, or snow-based adventures.
Versatile designs; some even come with fold-down beds in the garage space, effectively optimizing sleeping space.
Often includes reinforced construction materials and floors for heavy equipment.
Cons:
The emphasis on garage space might compromise the living or bedroom areas.
Some garage designs might not offer optimal insulation, potentially making temperature regulation a challenge.
Rear Bath Layout
In the grand tapestry of travel trailer floor plans, the Rear Bath Layout finds its niche with those who prioritize their bathroom experiences. An expansive bathroom, delicately situated at the rear, is where luxury and functionality blend seamlessly.
Pros:
An embodiment of spaciousness, often incorporating larger showers, tubs, or even dual sinks in some models.
Provision for more storage, ensuring all bathroom essentials are within arm's reach.
Some designs even incorporate luxury elements like premium faucets, cabinets, or specialized lighting.
Cons:
Can reduce space in the living or bedroom areas, which might be a drawback for families.
Plumbing complexities might arise, given its distance from other central systems, potentially affecting maintenance in the long run.
Rear Storage Layout
A rear storage layout is commonly observed in travel trailers and RVs. This floor plan design is especially favored by those embarking on prolonged adventures across North America. It aims to prioritize storage, ensuring campers can bring along everything needed for their journey. By emphasizing storage, it caters to those who might have a commitment to long-term camping, ensuring all necessary items find their right place inside the RV.
Pros:
Ensures ample storage for long trips, accommodating tools, toys, equipment, and camping essentials.
Keeps the living area organized, reducing clutter which is crucial given the limited space in trailers.
Perfect for those with more equipment or those who buy things during their travels and need the space to store them.
Cons:
Might compromise on the spaciousness of the living room or bedroom, affecting the comfort of the passengers.
Accessing the storage area can be challenging, especially when the trailer is attached to the tow vehicle, posing a hindrance during pit-stops.
Murphy Bed Layout
Popularized by manufacturers like Jayco and Forest River, the Murphy bed layout is the embodiment of clever RV design. By integrating a fold-down bed over a sofa, this floor plan uses space efficiently, catering to both relaxation and sleep. When you're on the road, optimizing every inch of your travel trailer is crucial. The Murphy bed layout does just that, giving you the comforts of home while on the move.
Pros:
Allows for a spacious living area during the day, making it feel more like a living room.
With the quick transformation between bed and sofa, it offers flexibility for different needs.
Often comes with additional storage cabinets above or beside the bed, ensuring essentials are within reach.
Cons:
Some travelers find the Murphy bed less comfortable than traditional RV beds. In certain models, the mattress might be thinner.
Storage beneath the bed can be compromised, affecting the overall storage capacity of the trailer.
What are Some Unique Travel Trailer Floor Plans?
As the demand for travel trailers continues to rise, so does the innovation in their designs. Manufacturers, recognizing the diverse needs of campers, are coming up with unique layouts that go beyond the standard. From those tailored for work on-the-go to others focused on entertainment, there's something for everyone.
Front Living Travel Trailer
Championed by many as the ultimate entertainment-centric floor plan, the front living travel trailer design places the living area at the trailer's front, distinguishing it from others. Often accompanied by luxury amenities like a large entertainment center or even a fireplace, it's the ideal choice for those who wish to lounge and relax during their travels.
Pros:
The expansive living area ensures maximum comfort, mirroring the comforts of a home living room.
Often equipped with larger windows, it provides ample light and an impressive view of the surroundings.
Cons:
With the focus on the living area, the bedroom might get relegated to the back, making it smaller.
Being isolated from the kitchen and bathroom, it could feel a tad detached from the rest of the trailer.
Travel Trailer with Office
The rise of digital nomads and remote work has ushered in a need for RVs to adapt. Recognizing this shift, many manufacturers, like Jayco and Forest River, have introduced models that include a dedicated office space. This allows travelers to maintain a balance between work and leisure, making the road their office.
Pros:
Dedicated office space ensures a work-friendly environment, aiding productivity.
The option to customize with ergonomic furniture ensures comfort during long work hours.
Cons:
The inclusion of an office might mean sacrificing some amenities, like a larger bathroom or an additional sleeping space.
Noise insulation might be lacking in some models, making it challenging to work in noisy campgrounds.
Bar and Grill Floor Plan
Perfect for those who love outdoor gatherings, the bar and grill floor plan is the epitome of alfresco dining. Tailored with an integrated outdoor bar and grill, it's perfect for those BBQ evenings under the stars, turning your campsite into a party hub.
Pros:
Enhances the camping experience by adding an outdoor dining and entertainment area.
Ideal for those who prioritize outdoor cooking and gatherings.
Cons:
Being exposed to the elements, the outdoor setup might demand more frequent maintenance and care.
The focus on the outdoor area might mean compromising on interior space, affecting the size of the living area or bedroom.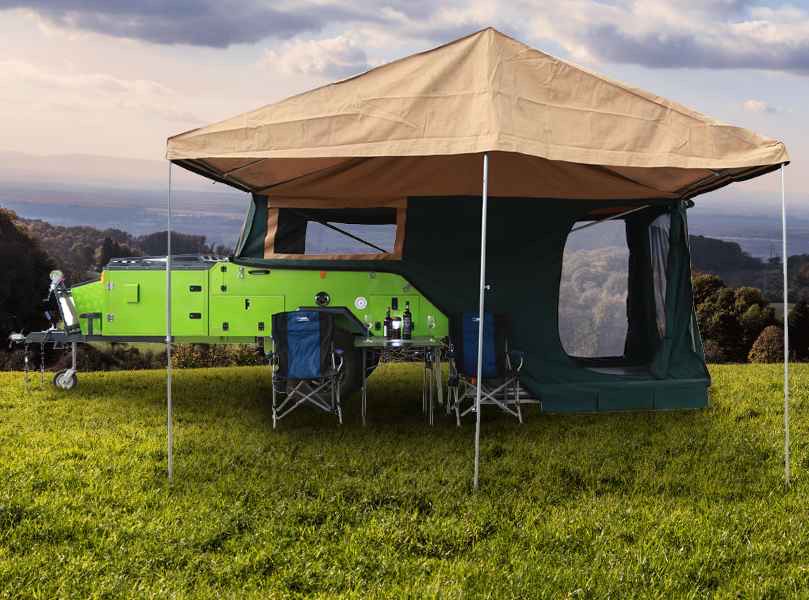 What is the most popular floor plan for a travel trailer?
The most sought-after floor plan varies based on individual needs. However, the Bunkhouse layout, with its emphasis on family-friendly design, often stands out in North America. Regardless of trends, the perfect floor plan hinges on personal preference, ensuring every trip is an unforgettable adventure.
How does the choice of floor plan impact the price?
Choosing the right travel trailer floor plan can mean more than just deciding on the number of beds or the placement of the kitchen. The design complexity often has a direct correlation with the trailer's final cost.
For instance, more intricate designs often feature luxury amenities such as a fireplace in the living area or a spacious bathroom with high-end fixtures. These additions, while enhancing comfort and lifestyle, can also elevate the price. Forest River and Jayco are popular brands known for their range of floor plans, catering to both budget and luxury travelers.
Some main price points are:
Floorplans with multiple slide-outs: These designs offer expanded living space. However, the addition of slide-outs can add to the weight and subsequently the price of the travel trailer. Slide-outs require additional mechanisms and constructions, impacting the overall cost.
Integrated technology: In this digital age, many modern RVs come equipped with integrated entertainment centers, smart controls, and other tech features. These additions, while enhancing convenience, can drive up costs.
Material quality: The choice of materials plays a substantial role in determining the trailer's luxury quotient and price. High-end materials used for cabinets, flooring, or countertops not only add to the trailer's aesthetic appeal but also to its durability and longevity.
Are there unique floor plans for specific travel purposes?
Travelers come in all shapes and sizes, and so do their needs. Recognizing this, many manufacturers have started designing floor plans tailored for specific types of travelers.
Digital nomads, for instance, might gravitate towards designs that incorporate dedicated workspace, ensuring they remain connected wherever the road takes them.
Large families or groups might be more inclined to opt for a floor plan with bunk beds, a spacious living area, and ample storage space.
Moreover, couples who cherish their privacy might find a floor plan with a separate master suite, away from the main living area, more to their liking. Such customization ensures every traveler finds a design suited to their specific needs.
For digital nomads: Floor plans with dedicated workspaces, robust data rates, and power outlets.
For families: Designs featuring bunk beds, kids' play areas, and multiple bathrooms.
For adventure seekers: Floor plans with a garage or storage area for bikes, camping equipment, or even toys.
How have travel trailer floor plans evolved over time?
Tracing back through the annals of travel history, one can see a distinct evolution in travel trailer floor plans. What began as simple tow vehicles with basic amenities have transformed into luxurious homes on wheels, complete with every conceivable comfort.
In the early days, travel trailers were primarily designed for functionality. They were compact, easy to tow, and had basic amenities. However, as the popularity of road trips and camping soared in North America, so did the demand for more comfortable and convenient trailer designs. This evolution was also driven by the changing needs of the US population.
Nowadays, the range of available travel trailer floor plans is vast, from compact models suitable for solo travelers to expansive ones that can accommodate large families. Features like slide outs, murphy beds, and u-shaped kitchens that optimize space have become common, while luxury options can include amenities like a dedicated entertainment center or even a fireplace.
Can you customize a travel trailer floor plan?
Customizing a travel trailer floor plan isn't just a mere idea—it's a growing trend in the RV world. With a rising number of adventurers looking to cater their travel trailers to their specific needs and tastes, RV manufacturers and dealers across North America are recognizing this demand and offering customization options.
Take, for example, the revered names in the industry like Forest River and Jayco. While they both present a range of standard models, they're also dipping their toes in the waters of customization. The process of tailoring your travel trailer involves choosing various design elements and features to match your requirements. From the layout of the kitchen and bathroom to the placement of slide outs, the possibilities are quite extensive.
Yet, customizing doesn't come without its considerations:
Price: Generally, custom floor plans might be a tad pricier than the standard models. The exact amount, however, varies depending on the changes and the manufacturer.
Time: Custom jobs aren't always speedy. Patience is key as the dealer works to ensure everything aligns with your vision.
Options: While customization offers myriad options, certain structural and safety limitations might arise.
How to optimize the use of space in any travel trailer floor plan?
Maximizing the use of space in your travel trailer is crucial, especially for those long road trips. The beauty of an RV is that it combines the comforts of home with the allure of the open road. Here are some creative ways to do just that:
Multifunctional Furniture: Consider incorporating furniture that serves dual purposes. Murphy beds, for instance, can be folded up during the day to make space and pulled down at night for a comfortable sleep. Similarly, U-shaped dinettes can transform into sleeping spaces when needed.
Storage Solutions: Use every inch available. This might mean installing cabinets in overlooked places or adding storage units under beds and seats.
Slide Outs: Slide outs are compartments that can be extended once the trailer is parked. They offer additional living area, making the space feel less confined.
It's also about ensuring every feature aligns with your lifestyle. If you're a couple traveling without kids, maybe bunk beds aren't necessary. However, if family trips are frequent, that extra sleeping space might be invaluable.
What future trends can we anticipate in travel trailer floor plans?
Predicting the future of travel trailer floor plans involves analyzing current trends and industry insights. With the advancement in technology and the increasing demand for sustainable travel options, the following trends are gaining traction:
Green Features: With a growing emphasis on sustainability, we can anticipate more eco-friendly amenities. This includes solar panels, energy-efficient appliances, and perhaps even the incorporation of lightweight materials to reduce tow vehicle strain.
Digital Integration: As everything becomes more interconnected, it's plausible that future RVs will be equipped with advanced tech solutions. Think integrated entertainment centers, smart kitchens, and even remote-controlled features.
Open Layouts: The desire for a more spacious feel might lead to designs emphasizing open living areas, fewer walls, and larger windows.
While these are speculative, they stem from the evolving needs and preferences of RV enthusiasts.
What are the Factors to Consider When Choosing a Floor Plan?
The decision-making process for selecting the perfect floor plan is multi-faceted. It isn't solely about aesthetics; it's about merging beauty with functionality. Some of the significant factors to weigh include:
Analyzing Space Needs
Space undeniably sits atop the list of considerations. It's essential to visualize the number of people accompanying you on your adventures. For couples, a master suite might suffice. Yet, for those planning family trips, the equation changes:
Bedroom layouts: The number of bedrooms, the presence of bunk beds, or even innovative solutions like a murphy bed can be the difference between a cramped or a comfortable journey.
Living area designs: Some travelers prioritize having a spacious living room to relax, entertain, or even work.
Bathroom considerations: Depending on the number of travelers and their preferences, the size and number of bathrooms can be a significant factor. Some might be content with a compact bathroom, while others may look for luxurious bathrooms with high-end amenities.
Assessing Frequency of Travel
Your RV's usage pattern can influence your choice of floor plan:
Occasional travelers might forgo certain luxury features considering the limited use.
On the other hand, full-timers or those contemplating longer trips would benefit from a comprehensive package loaded with all conveniences.
Lifestyle Preferences and Their Impact
Traveling doesn't mean sidelining one's hobbies or preferences:
For the culinary enthusiasts: A larger, well-equipped kitchen might be non-negotiable. Modern RV kitchens come with all the trappings one might find in their home – from high-quality equipment to spacious countertops.
Outdoor aficionados: An extensive awning might be crucial for those who love to lounge outside. Additionally, provisions for storing bikes, camping gear, or other toys could be a game-changer.
Furthermore, while it's tempting to prioritize the floor plan alone, never underestimate the importance of quality construction, durable materials, and reputable dealers.
Conclusion
In essence, the world of travel trailers offers an adventure in itself—from the customization possibilities to the diverse floor plans available. Whatever you choose, remember it's not just about the journey but also the comfort of your home on wheels. The right floor plan can truly elevate your traveling experience, ensuring every trip is memorable.