September can be an incredible time to hit the road in your camper. The departure of August marks the beginning of the school year in many parts of the country; an annual event that significantly diminishes the number of people traveling to the various National Parks and wildernesses in the United States. With fewer families on the road, RV parks and popular boondocking spots quickly clear out and can be enjoyed with a few degrees more peace and quiet.
But just because August has passed, doesn't mean it's going to be delightful sweater weather wherever you go. Many states in the American West, like California, Utah, and Nevada, stay wicked hot well into September.
This heat is a viscous adversary while RV camping. If appropriate measures aren't taken, your home away from home can begin to feel like an oven designed to broil you and your crew day and night.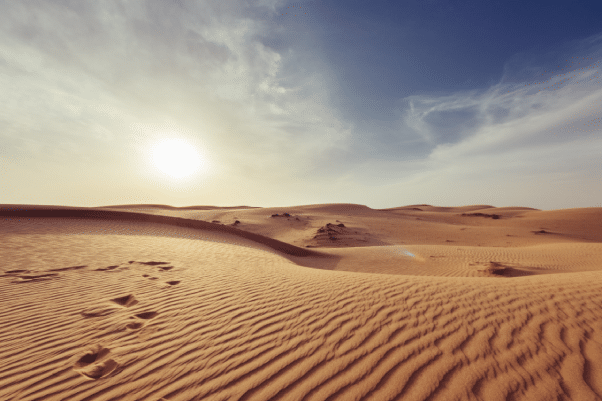 But don't sweat it! There are a plethora of simple tricks to keep your RV cool as you travel through warm regions. Below, I've compiled a list of the most tried and true methods our RV forefathers have found to keep a rig from burning up inside and out. I've found personal success with all of these methods, and I bet you will too.
How To Keep a Camper Cool in the Summer Heat
You may not have the time and resources to attempt all of these tricks, but even just implementing a few into your daily camping routine should prove effective in keeping your camper cooler than before.
1. Insulate, Insulate, Insulate!
Insulation isn't just for keeping warm air in your camper during the winter. A well insulated rig will stay warm in the winter, and cool in the summer. I'm starting my list with this tip, because I personally think it will have the biggest impact in keeping your RV cool in the summer. But I'll be straight with you, improving and upgrading the insulation situation in your RV can be a timely and expensive endeavor and all depends upon the degree to which you dive into the project.
Starting small, an easy way to better insulate your rig is to seal it up and reduce as much air exchange as possible. Air exchange is simply the process of air moving in and out of a building, structure, or in this case, camper. More air exchange results in a less insulated space. As air flows in and out, it carries with it heat. In the summer, this will be heat entering the camper, and in the winter it is heat leaving the camper.
So how does one stop this nasty air exchange?
With a tube of silicone caulk.
Grab a tube of caulk and a caulk gun, and wander around the inside and outside of your rig. Look for cracks and open seams around windows, doors, vents, and electrical ports. Generously (and cleanly) apply caulk to seal up any gaps found. Once unwanted openings are sealed, you will be able to fully control air-flow in and out of your rig via rooftop ventilation units and air conditioners.
Those of you with older RVs or campers with poor wall insulation will want to fully upgrade the rig's interior wall insulation. This is an invasive and expensive project but will be so worth it on those swelteringly hot and bitter cold nights. Find a local RV technician or van conversion technician and ask for a quote on this kind of project. Or, in true DIY fashion, grab your toolbox, and some rolls of insulation, and insulate that sucker yourself.
2. Park in the Shade
Alright, how about some tips that don't require a trip to the hardware store?
Simply parking the shade can have an enormous effect on how hot the interior of your RV will get throughout the day. The trick is to prevent as much solar radiation from hitting the exterior of your rig as possible. Even if it's just some brief shade for a few hours in the morning or afternoon.
An unexpected benefit of parking in the shade is that rooftop air conditioners don't have to battle as much heat in order to cool the RV. This results in a more efficient AC and quicker cool-down times.
3. Park Near Water
Anyone who has lived near the sea or any large body of water will attest that water makes the surrounding air cooler. This happens for a number of reasons, the principle of which being that bodies of water cause wind.
Throughout the day, land and water heat and cool at different rates. As this happens, the surrounding air is moved around by the resulting pressure changes and thermal updrafts. This turbulent action in the skies results in a pleasant sea breeze that can provide immense relief from hot weather.
If you have an upcoming road trip that will be taking place in the hot months, try to plan ahead and secure a campsite on the shores of a lake or river. Keep in mind that these campsites are extremely popular, so you may need to reserve them many months in advance. The most popular campsites and RV parks in America are typically fully booked 9-12 months in advance!
4. Camp in Breezy Areas
Water isn't the only natural feature that can cause heavy winds. Some regions maintain a steady breeze due to geological features such as canyons and gorges.
In these areas, tall geological formations funnel and concentrate wind as it passes through the narrow channels of rock. This phenomenon might not have a huge impact on cooling down the interior of your RV, but it can help you beat the heat as you hang out outside your rig. Fair warning though, high winds in the desert have the potential to kick up a lot of dust and debris. Park downwind in a canyon, and you might get a bit of grit in your teeth.
5. Use Portable Fans
Portable fans are relatively inexpensive and go a long way to create a pleasant breeze inside your RV. Many varieties exist on the market. Some run off of small disposable batteries, while others are rechargeable and thus significantly more friendly to the environment.
If you plan on camping with power hookups or you have a powerful off-grid electrical system, the sky's the limit as to how many and what types of fans you can equip your rig with. Most house fans will have a traditional plug and will utilize your RV's 120V AC system, while others can be bought that operate using the 12V DC system.
6. RV Air Conditioner
An RV air conditioner is the supreme method of keeping your RV cool this summer. RV air conditioners are powerful, efficient, and designed to harness the power of your camper's electrical system.
If you don't have an air conditioner on your rig and are tired of sweating it out each summer, reach out to a local RV technician and ask for a quote on the purchase and installation of an AC unit.
7. Keep AC Filters Clean
RV air conditioners have air filters that keep dirt, debris, and insects from entering your camper via the cooling system. Like all filters, these need to be regularly cleaned and/or replaced in order to maintain the maximum efficiency of the appliance. A dirty filter will choke an AC, preventing it from intaking the proper amount of air.
Regular, scheduled maintenance of AC filters results in a smooth, clean flow of cool air in your camper all summer long.
8. Create Shade
If you can't seem to find anywhere to park in the shade, creating your own shade might be the next best option. Awning and large umbrellas offer a simple way to create some shade outside of your RV, so you do not have to hang out inside your rig during the heat of the afternoon sun.
Brands like Fiamma manufacture some of the most durable and popular awnings for aftermarket installation. They come in a variety of sizes and colors so you will almost certainly be able to find a model that will match your RV.
If you are in the market for a new RV, try to find a model like this adventure travel trailer made by custom camper manufacturer Ecocampor. This rig has an awning installed at that factory, so you don't have to worry about aftermarket installation.
9. Utilize RV Windows
Opening and closing your RV windows at specific times during the day is an easy way to take advantage of the temperature swings from day to night. Once the sun has set, and the outside temperature has lowered to below the temperature in your rig, open those windows up and let the cool breeze roll in. This has a dual effect of letting cold air in and letting stinky sweaty air out. Just make sure to set an alarm to close the windows before it gets warm in the morning so you can trap all that cool night air in your camper.
There are a couple of things to keep in mind if you plan on sleeping with your RV windows open. Bugs and other critters might try to make their way inside so make sure to have solid, hole-free bug screens installed on all of your windows. If your windows open enough that a person could enter through the opening, buy and install a specialty lock that will prevent the window from being opened more than halfway.
10. Cook Outside
All stoves create a tremendous amount of heat. While it may be tempting to cook your meals in the comfort of your air conditioned kitchen, the stove will create enough heat to warm the interior of the RV and put a strain on the air conditioner.
Consider buying a portable propane stove and a folding table so you can construct an outdoor kitchen for cooking in the summer. Bonus points if you can set this temporary kitchen up in the shade of an awning.
11. Upgrade to LED Lights
LED lights create very little heat when compared to traditional incandescent or even fluorescent light bulbs. Upgrading to LEDs will keep your RV cooler and will save you money in more than a few ways.
LED lights do not need to be replaced as often as traditional light bulbs, saving you money on replacements. They are also significantly more energy efficient and will consume less of your RV's power. In these modern times, LEDs are almost as cheap as regular bulbs and can be easily upgraded by any RV technician or electrician.
12. Buy or Make Window Shades
Windows allow a lot of heat to enter a camper. Most, if not all RVs have curtains or blinds that can be pulled over a window to keep some of this heat out. But many of these blinds still let some degree of light and heat through. Enter the insulated window shade. An insulated window shade will block sunlight from entering your camper and do a much better job of insulting your rig than a curtain.
Insulated window shades can be bought online or made with materials easily purchased at a home improvement store.
Other Ways to Beat the Heat
Here are a few ways to stay cool this summer regardless of whether you are RV camping or not:
Stay hydrated: Staying hydrated helps the body regulate the temperature in extreme heat. It also replenishes water lost to sweat, allowing your body to continue sweating and cooling down.
Wear clothes made of breathable material: Certain materials are more breathable than others and are thus better suited for extreme heat. Cotton and linen are great choices because they are breathable and lightweight. Avoid polyester as it is not breathable and will trap heat near your body.
Avoid sunburns: Sunburns are bad for a number of reasons. First and foremost, they damage the skin and can lead to skin diseases later in life. Additionally, they raise body temperature as your body works to heal damaged and inflamed skin. Avoiding sunburns on long camping trips will prevent you from feeling extra hot for the duration of the trip.
Frequently Asked Questions
See what other RVers are asking about staying cool this summer.
My camper is insulated, will it get hot in the summer?
Potentially. Even the best insulation can't totally prevent heat from getting into your rig. But a well-insulated camper will heat up much slower than an uninsulated camper and will keep cool, air-conditioned air inside longer.
Is it dangerous to sleep with my air conditioner on?
Generally speaking, it is not dangerous to run your AC at night while you sleep. Just make sure you have the unit inspected regularly and that all of your smoke alarms and carbon monoxide detectors are tested regularly and have fresh batteries.