Are you looking to partner with a new camper trailer manufacturer to increase your dealership inventory? This off-road specialty manufacturer has many models to choose from and ships to many countries worldwide for your convenience. Keep reading to find out more!
Customers Are Looking For Off-Road Camper Options
There has been a recent increase in the popularity of off-road campers. Customers are looking to hit the road and stay in unique locations far from crowds and outside of campgrounds. They desire the flexibility to go anywhere they wish through travel in an off-road RV.
Off-road and off-grid camping provides the freedom to explore and camp in new destinations not normally accessible by traditional RVs. The upgraded suspensions, off-road tires, solar panel power systems, and composting camper toilets allow campers to stay without utilities and truly connect with nature. It's no wonder why more customers are seeking off-road camping trailers.
Do You Have Inventory To Meet This Demand?
As the customer demand rises for off-road camping, is your RV dealership keeping up with this demand? Off-road truck campers, off-grid small camping trailers, and even pop-up hybrid camping trailers are all hot right now, with consumers looking to ditch crowded or expensive campgrounds and head out farther into the woods.
Free camping, boondocking, dry camping, or wild camping has increased in recent years as campground prices have soared and campground availability has become limited. Off-road campers are the best RVs for navigating the often rough roads that lead to free rural camping locations. Are you offering these off-grid RV models to your customers?
Rugged Features Your Customers Are Looking For
Off-road camper enthusiasts are looking for more than just a rugged exterior. They are also seeking out features that will make their off-road camping experience easier and more comfortable. Many off-road campers come equipped with features like upgraded suspension, shocks, and off-road tires to ensure a smooth ride and camper durability on even the roughest terrain.
Solar panel power systems provide the energy needed for lights, air conditioning, and a refrigerator. Composting camper toilets are also becoming increasingly popular as they use natural materials to break down waste without the need for water or chemicals. These features make the camping experience more comfortable and enjoyable while still out adventuring and enjoying nature.
Your customers will appreciate an off-road camping manufacturer that specializes in this rugged type of camper while still providing all of the comforts of home. Keep reading to discover an off-road specialty manufacturer that is an excellent choice for your dealership's inventory.
Partner With An Off-Road Specialty Camper Trailer Manufacturer
A camping trailer manufacturer that specializes in off-road campers is Ecocampor. They are shaking up the RV industry with quality, rugged, go-anywhere camper options that are the perfect recreational vehicles for your dealership's customers.
Off-road campers must have the best designs and upgraded features to be sturdy enough to handle the rough terrain and remain durable for many future trips. Choosing a camper manufacturer that specializes in rugged off-grid camping will give your customers the best quality product for their outdoor adventures.
Ecocampor has 15 years of experience manufacturing quality off-road camper trailers. They ship internationally and can meet your inventory needs.
Why Choose Ecocampor For Your Off-Road Camper Inventory
You may be wondering if choosing an international brand of off-road camping trailers is a good fit for your dealership. Ecocampor is known for quality products that exceed customer expectations. In fact, more than 75% of Ecocampor campers created over the course of nearly 15 years are still on the road today and ready for the next adventure.
Ecocampor's mission is to make the camping experience easier and more enjoyable for outdoor enthusiasts. Your customers will be thrilled to have these quality camper options available to purchase at your dealership. Offering this unique selection is a good idea to help set your business apart from others that haven't yet discovered Ecocampor while also keeping up with the increase in demand for off-road trailers.
Ecocampor is the #1 RV factory in China and offers opportunities for dealerships in select markets in North America, Australia, Europe, Japan, Korea, the Middle East, and South Africa. Ecocampor Trailers provides you and your sales team with exceptional products and options, great customer service, dealer support, and marketing tools. They have a long history of taking care of customers and working hard for dealers.
Ecocampor's Quality Process
Ecocampor has a 3 step quality process to deliver the best-constructed off-road camping trailers and truck campers to your customers. The newest manufacturing technology is used to produce campers that stand the test of time. As soon as you view an Ecocampor product in person, you can see the difference in quality compared to other brands.
Material Quality
First, all materials are inspected for quality before entering the manufacturing process. Any defect found in the material will not be used to construct an Ecocampor RV.
In-Production Quality Control
The quality assurance officer inspects different stages in RV production. If faults are found in the production process, the camper will not continue to the final manufacturing stage.
Final Inspection
The most detailed inspection occurs in the final manufacturing state. This inspection includes electrical components, durability, safety, and many other final checkpoints to guarantee the quality of the finished camper.
Expert inspectors must approve all checks before the RV is allowed to pass the production process. This final inspection guarantees that the quality of the finished product is ready for customer delivery.
Products You Can Order From Ecocampor
One of the largest benefits of working with a camper trailer manufacturer specializing in off-road campers is the selection they can offer your dealership. Ecocampor produces camping trailers in all different sizes, truck campers, and hybrid pop-up camper models to suit your customer's preferences. Let's take a look at some of the latest model year campers you can order from Ecocampor.
Off-Road Teardrop Camper Trailer
This versatile off-road camper has an optional add-on roof tent for a sleeping capacity of up to 6. Teardrop trailers are lightweight travel trailer options popular with families. The upgraded independent suspension system combined with two 150 Watt solar panels makes this the perfect small camper for an off-grid trip.
Rear Fold Camper Trailer
This new twist on a pop-up camper is a great choice for families looking to explore the great outdoors. It sleeps 4-5 with an outdoor shower and a slide-out outdoor kitchen area, including a fridge. It is off-road and off-grid ready with an independent suspension and a solar power system, perfect for short trips or long trips.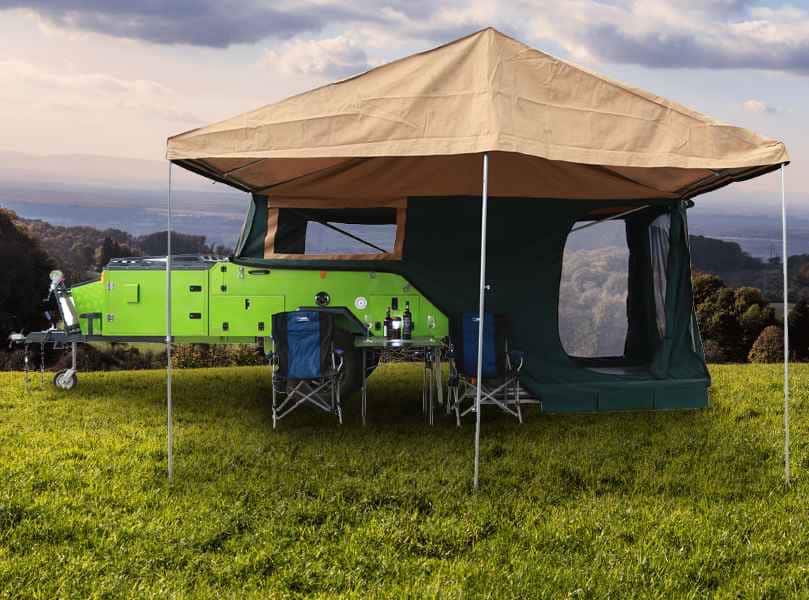 Off-Road Caravans
Ecocampor offers a large selection of off-road small travel trailers with floor plans ranging in length from 12-22 feet. Each variation features combinations to meet your customer's needs with comfort standard features such as air conditioning, heating, a queen-sized bed, and a kitchen. The 13-foot and 15-foot caravans are hybrid camper models with a roof that raises for additional headroom, including bunk beds and more living space. These small travel trailers provide the comfort of your own home on the road.
Off-Road Toy Hauler
For customers with toys to bring along, the best travel trailers are Ecocampor's 19 foot off-road toy hauler. This rugged camping trailer sleeps up to 6 with couches that fold into bunks and a removable table that converts to a bed. With a cargo carrying capacity of 1,900 pounds, this RV type features plenty of room to bring along your gear. There is a full kitchen, an entertainment center with TV and stereo, and a bathroom for your customer's comfort while camping.
Truck Campers
Ecocampor also specializes in off-grid truck campers. They have many off-road models to choose from to meet every customer's camping style. You can order slide-in truck campers (including fiberglass shells), hybrid pop-up lightweight truck campers, and fixed long-bed truck campers. Truck campers are a versatile, go-anywhere, best choice RV option for adventurers looking to go deep into nature. Consider offering different models of Ecocampor truck campers at your dealership.
Ecocampor Ordering Process
Wondering what the ordering process involves to add Ecocampor to your dealership's inventory? It's a simple user experience. Keep reading to learn more.
Sample Orders And Custom Orders
Ecocampor accepts sample orders as well as custom orders for various models, so you can feel confident knowing that you will receive the best camping trailers for your customers. You can place a trial order to evaluate the quality RV for yourself and validate your purchase decision.
Ecocampor has also been creating customized orders since 2008 to meet your specific needs. Contact them to discuss your custom needs.
Delivery Time
Once you place your order and deposit with Ecocampor, it takes 45-90 days for you to receive your base model order. For custom orders, allow 60-120 days for your new RV order to arrive.
Road Standards
Ecocampor ships internationally and will customize your off-road camper order to meet your country's road standards. Please allow the custom order shipping timeframe of 60-120 days for your order to arrive. VIN certificates are available for every trailer, so there are no issues with camper registrations.
Factory Tour
Curious about Ecocampor's manufacturing facility? Customers are always welcome to come visit and tour the factory. Meet the people behind the scenes and see the build quality of every Ecocampor RV in person. Please request a tour at least seven days in advance. Can't make it in person? A better option may be taking the virtual tour HERE!
Become A Wholesale Dealer
Join Ecocampor's trusted dealer network today. Ecocampor prides itself on delivering a superior purchasing experience and innovative designs for dealer partners. The off-grid camping trailers and truck campers feature the same premium engineering features of a major brand while still maintaining small-business values and relationships. Fill out the Dealership Application to begin working with Ecocampor.
Are You Ready To Add A Quality Off-Road Camper Trailer Manufacturer To Your Inventory?
Campers are looking for new and exciting ways to RV travel. Many are seeking an off-grid experience deeper in nature and far away from crowded campgrounds. Quality-built off-road caravans, camping trailers, and truck campers from Ecocampor are exactly what your customers are looking for. Consider partnering with an off-grid expert trailer manufacturer like Ecocampor to meet your dealership's inventory needs.