What is a Pop-Up Camper?
A pop-up camper is any travel trailer that can be hauled in a collapsed, compact state and, upon reaching a campsite, expand to reveal a large interior living space. Most pop-up campers feature flexible canvas walls and a lightweight fiberglass roof. These lightweight and flexible materials allow these RVs to be easily erected and collapsed by users of all strengths and abilities.
The most common models of pop-up campers are large enough to accommodate two beds, some bench seating, a modest galley, and a dining table for four. Because of their unique construction and size constraints, it is uncommon to find a pop-up camper with a full bathroom.
Pop-up campers are designed for towing efficiency and affordability. They are built to be nice and comfortable, but without the focus on luxuriousness typical of other types of recreational vehicles. In some ways, camping in a pop-up camper can be thought of as camping in a large, durable tent. In fact, some regions of the country refer to pop-up campers as tent trailers.
While not all pop-ups have canvas walls (more on that later), most do, and these meager walls can leave something to be desired in regard to protection from the elements. Just like tent camping, if the wind is blowing and rain is coming down, you'll know it.
Types of Pop-Up Campers
Five types of trailers dominate the pop-up camper world. Some hardcore RV enthusiasts may argue that there are more types of pop-up campers, but most of the niche models are more or less a variety of the following five types.
Traditional
Pictured above, a traditional pop-up camper is the most common type of pop-up you may encounter in the wild. Roughly 12 feet long and seven feet wide, traditional pop-up campers pack down small and fold out big. When collapsed they reach a height of roughly four feet and are around seven to nine feet tall when fully open. This allows for roughly 7 feet of interior ceiling height, enough for all but the tallest of folks to stand comfortably inside.
Depending upon the length and overall weight, some traditional pop-ups can be towed with a medium-duty tow vehicle such as a sedan or hatchback. Ease of towing makes pop-up campers a very popular recreational vehicle choice for RVers on a budget. Without the need for a heavy-duty truck, many people are able to use their daily driver as a commuter during the week, and a toy-hauler on the weekends.
High Wall
A high wall pop-up is almost identical in design to a traditional model, the only difference being that high wall pop-ups have dimensions that allow for higher ceilings, larger storage areas, and tall interior countertops. Essentially a high wall trailer is a traditional pop-up, just scaled up in height.
High walls are quite a bit heavier than a traditional pop-up camper and will most likely require a powerful vehicle to be towed. They also cost quite a bit more than traditional models and retain their value longer due to consistently high market demand. Whereas a new traditional style pop-up camper costs between $10,000 and $14,000, a new high wall camper of the same manufacturing year will likely cost in the $15,000 to $25,000 range.
High wall pop-ups are more likely to have luxury amenities such as bathrooms and air conditioning. Models that do have bathrooms rarely feature an indoor shower but might have an exterior spigot for showering outdoors. High-end high wall pop-ups have power-lifts to aid in the setup process and some even have small slide outs that can significantly increase the amount of livable interior space.
A-frame
A-frame pop-up campers are a bit of an outlier compared to most pop-up models. With hard sidewalls and a sturdy roof, A-frame pop-ups are not nearly as susceptible to inclement weather as campers with fabric walls. They are sturdier, more durable, and offer users more peace of mind than their canvas-walled counterparts.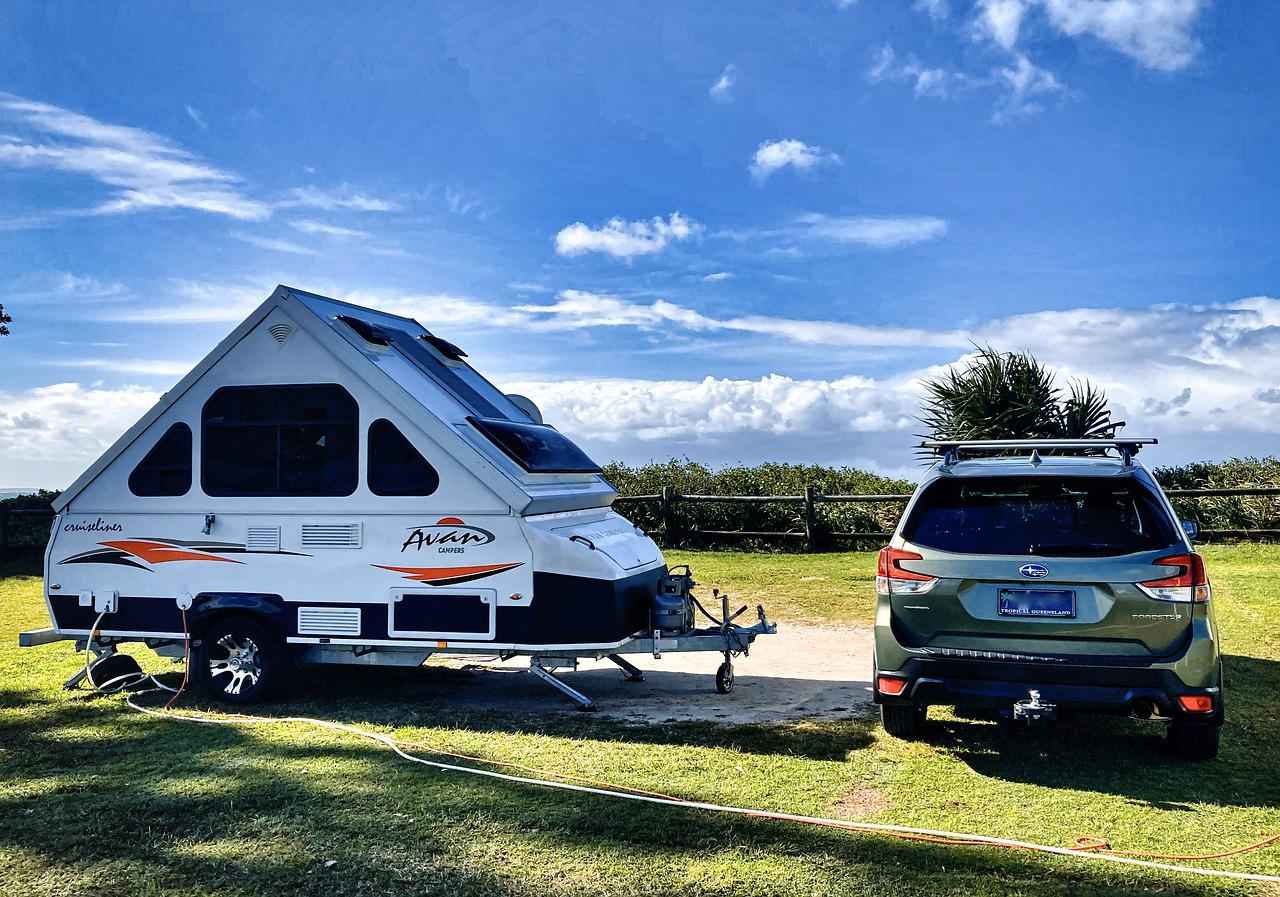 Due to their mechanics, A-frames have significantly smaller interior living spaces than other trailers. Most feature only one bed, a small galley, a two-person table and some bench seating.
Hybrid model A-frame campers exist with additional hatches on the roof that can be opened to create extra headroom. These hybrid pop-ups are ideal for taller folks who wouldn't be able to comfortably occupy a pop-up camper otherwise. If you are interested in buying a pop-up camper with extra foldouts, anticipate paying at least $2,000-$3,000 more for that feature.
Flip-Out
Flip-out trailers offer extremely spartan accommodations. They are essentially a large tent and padded bed platform mounted onto a small trailer. Once a flip-out trailer is parked, chocked, and locked, the tent feature flips outward and rests halfway on the trailer and halfway on the ground. The bed is situated on the trailer itself while a small ground cover and the tent create a living room of sorts.
These trailers have lockable storage space, and some have small outdoor kitchenettes. They are commonly referred to as flip-out campers, foldout campers, tent trailers. I describe these trailers as offering spartan accommodations because staying in one is only a small step above staying in a traditional ground tent.
A flip-out trailer is one of the smallest commercially available campers out there. They are lightweight, low profile, and extremely easy to tow. Many flip-out style trailers are so lightweight that they can be moved and repositioned by hand, a feature that is extremely convenient if you've already unhitched from your tow vehicle.
Truck Bed Camper Pop-Up
A truck bed camper is a type of RV specifically designed to nestle into the bed of a pickup truck for hauling and camping. Truck bed campers come in several shapes and sizes, one of which being a pop-up variety. Similar to traditional pop-ups, a pop-up truck camper maximizes fuel-efficiency and minimizes gross weight with a dynamic roof that can be easily raised and lowered.
When in the down position, a truck pop-up extends over the cab of a truck and adds roughly a foot of height to the vehicle. When raised, the roof reaches three or four feet taller than the overall truck height, creating ample headroom for users.
Truck pop-ups are very popular amongst outdoor enthusiasts who use the same truck for camping as they do for commuting. Being able to condense their camper while traveling allows these weekend warriors to drive home from the woods on a Sunday night and drive to work on Monday morning without unloading in between.
How Much Do Pop-Up Campers Cost?
The cost of a pop-up camper can vary significantly depending upon two key factors: age and design.
The cheapest pop-up campers out there are traditional style pop-ups that have a modest galley, some storage space, and can sleep three to four people. A new pop-up camper like this typically costs between $10,000 and $14,000.
A used pop-up camper of this style costs around $5,000, while really old models from the late 70's and 80's can be found on the used market for as low as $2,000. Not too bad, huh? Just keep in mind that a 40-year-old used RV will definitely need some money poured into some refurbishing.
Hard-sided high wall campers cost more than traditional models, ranging anywhere from $15,000 to $25,000 depending upon the features. Data on the average price of used high wall pop-ups is difficult to find but I would wager they cost around $9,000.
Surprisingly, a tent trailer can be the most expensive type of pop-up trailer out there. This mostly has to do with supply and demand. Both the supply and the demand for tent trailers is low, resulting in high retail prices. If demand for these trailers rises, prices will lower. A new tent trailer runs around $12,000. This is technically lower than the cost of a new hard sided A-frame pop-up, but considering how small they are, the price is relatively high.
Pop-Up Camper Interiors
As previously stated, a pop-up offers pretty modest accommodations. In many ways, camping in a pop-up is much closer to glamping than other forms of RV camping. But even with simple interiors, these rigs are practical and a whole lot more comfortable than tent camping on the ground.
Kitchen
Most pop-up camper galleys are understated and are kitted out with just enough appliances for basic cooking. Expect to find a two-burner gas or electric stove, a small kitchen sink (potentially pedal-powered), and a counter for chopping veggies and preparing food. I've been in some pop-ups that have hot water capabilities, and in some that do not.
Living Space
RVers do not pursue pop-up camping for the abundance of interior living space provided by these rigs. In many ways it is best to consider a pop-up camper as a sleeping space, not a living space.
The livable space in a pop-up is more or less confined to a small table that can be used for dining, working, or playing games. In some rigs the table can be lowered into a channel and convert into an additional bed or couch-like seat. These beds can be quite small and are best suited for small-statured people or children.
Beds
As with most camping trailers, the average mattress size in a pop-up trailer is a queen. Traditional pop-ups usually have a queen mattress positioned on a cantilevered platform on either side of the RV. This double queen mattress situation allows four to five people to sleep comfortably.
Head room is limited in the bed section of a pop-up RV, and due to the cantilevered nature of the bed platforms in most pop-ups, the beds have a weight limit. Two people weighing 250 lbs. each would push the weight limits of these beds. A-frame pop-ups do not have cantilevered bed platforms and thus have higher weight limits for the bed.
Frequently Asked Questions
Check out some of the questions our readers have about pop-up campers!
Do pop-up campers have bathrooms?
Most pop-up campers do not have bathrooms. Pop-ups that do have bathrooms typically only have a toilet and sink but no shower.
Can you live in a pop-up camper full time?
Sure! Nothing is stopping you from living in a pop-up camper full time, but it won't be nearly as comfortable as living in a full-size camper. Pop-ups tend to get cold at night.
Are pop-up campers safe?
Camping in a pop-up camper is just as safe as sleeping in a tent. The walls provide protection from the elements, but anything sharp and determined will be able to get in.
---
Conclusion
Pop-up campers are great! They serve as an excellent first RV for many folks just getting into the world of RV camping. Relatively cheap, easy to tow, and with few systems to maintain, pop-ups are a low-stakes way to see if RV ownership jives well with someone's lifestyle.
Most folks use pop-ups as summer RVs, but hardcore outdoor enthusiasts don't mind donning their zero degree sleeping bags and using their pop-ups in winter weather.
If you think pop-up ownership might be in your future, try renting one from a site like Outdoorsy.com and take it on a weekend trip. I did exactly that for my birthday in Colorado one year and it completely changed my opinion on these awesome trailers.
Happy camping!